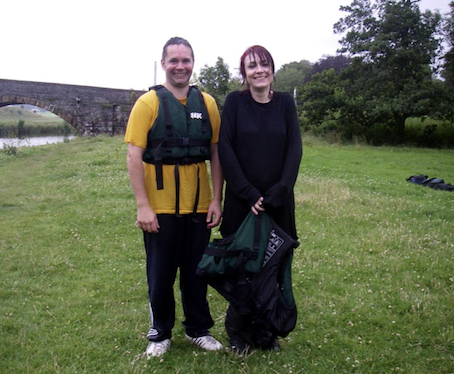 At the end of the year, Year 9s are invited to go to the Waddow Hall Guide Camp in Clitheroe for 4 days of camping and freezing activities. Surprise, surprise, Year 9 Camp is run and organised by none other than our resident camping extraordinaire Mrs Chapman.
Students arrive on a Monday morning and work with the leaders on each campsite to pitch their tents, lay out their beds and then start on their action packed 4 days with their first activity. Such adventurous activities include canoeing and kayaking, climbing and abseiling, archery, mountain biking (you can back out of this to do more games), swimming (only one group goes swimming, usually group 1), and team building.
Team building - Here you get to do activities that usually involve falling off barrels, screaming at your teammates, and getting rolled around on a massive ball along with up to 14 other people trying to survive the next few hours.
Swimming - Only one group goes swimming as they miss out a walk. Although, the walk to the local swimming pool is almost an hour anyway. The staff that came along last year were Mrs Sawle, Mrs Williamson, and Miss Ogle and from what we can tell their main job was just to constantly yell 'get off the road' and once we were there go 'guys, would you please stop splashing.' Because members of the public are too scared to go in with a bunch of rowdy teenagers the teachers didn't mind when we had water fights, played tig, and jumped in.
Canoeing/Kayaking - You go in pairs or threes on a canoe and go down a small section of the River Irwell, if you are the person at the front that means you can steer the boat! I personally recommend going through every overhanging tree and long grass although be warned - certain teachers who may be on the canoe with you do not appreciate this and will make you sit in the middle whilst they paddle instead, yet this means you don't need to do anything so win/win!
Evenings are taken up with the Year 9 Camp Quiz, the notorious talent competition (which less and less people enter every year, so last year mainly included sixth form acts to try and make it last longer than 10 minutes), and the disco, where everyone dances on the sloping dance floor to music provided by none other than Mr Jones.
Food is provided to staff and students by a dedicated team of cooks who are very militaristic about the defence of their realm, due to stringent health and safety regulations which state that nobody without a food hygiene certificate is allowed within the cookery complex. The kitchen staff famously include Miss Bowden, Mrs Spencer, Mrs Kolbuck, and a various amount of sixth formers who would rather go camping with a bunch of Year 9s than do work experience.
On one of the first Year 9 Camps, the local Tesco were warned in advance of our arrival, but nothing could prepare their customers for the sight of BRGS teachers walking through the shop with trolleys filled to the brim with bananas. One innocent customer assumed that Mr. Edwards, who was carefully filling his trolley with bread, must have been stacking the shelves and took bread straight from his basket!
Most of the activities only start at 10 or around then, yet for whatever reason Mrs Chapman makes you wake up at 6 or 7 ish for breakfast to make you suffer. To get a lie in just bring your own breakfast and you can wake up at 9 easily to have breakfast, shower etc before activities are even close to starting.
If you wander around at midnight you may come across Mr Reeves who seems to be contemplating a mid-life crisis. If you engage in conversation be prepared for having to offer therapy level advice. Also avoid Mrs Chapman as she doesn't appreciate people walking around the woods in the middle of the night.
Bring fairy lights for some lovely tent aesthetic. Your teacher camp leaders may not want all the tents in their field to be lit up like Christmas trees but it does make for some brilliant (yet cold) conversations with other people in your tent at 3 am.