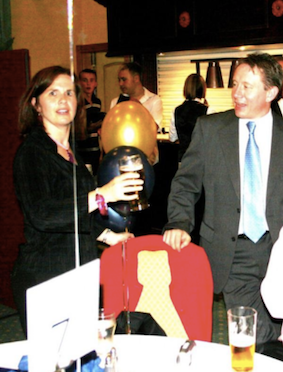 Mrs Chapman is a maths teacher, and seems to go on every school trip possible. She has been teaching at the school for years, possibly only beaten by the Bowdenator who has probably been here since the school was built.
Mrs Chapman does not take kindly to the nickname 'Chappers' although students and teachers alike have been heard using it. If she likes her classes or you have her Period 5 on a Friday (even if you have a test) she often puts on a music playlist, and each week the music genre seems to change dramatically. According to Mr Ventress, Mrs Chapman is "really good at the 'squiddley-bop'." (dance move apparently)
Google Meets feature a number of cameos from her kid who delivers Oscar-worthy lines including "Why is it echoing? Should I turn it off?", "Why is he called 'an imposter'?", "You have to go that way to get in the camera.", "Oh, can they see us?" and "It's always best to have a go."
Many classes who have had Mrs Chapman will remember the lessons with wasps the most. This is because Mrs Chapman seems to have a deep loathing for them and will stop at nothing to make sure they are defeated. This includes standing on desks, jumping from desk to desk, and hitting students with maths textbooks. In fact, in one such lesson may have been the closest she has ever come to swearing in class. One of her classes even bought her an electric insect swatter at the end of the year and she cried.
Mrs Chapman is well known for running pretty much all of the camping or outdoor activity based trips. This includes Anglesey, Year 9 Camp, and Duke of Edinburgh. In the unlikely event that Chappers isn't actually organising a trip, she will still go on it as she seems to be on every school trip possible.
"We wouldn't have done it otherwise, the camping element is my favourite bit."
When writing letters for these trips, she likes to place unnecessary apostrophes around words without much rhyme or reason - this includes the classic "there will be a 'tuckshop' if students are 'hungry'." - even after being on the infamous year 9 camp this uncertainty has not been cleared up, apart from that the so called 'tuckshop' was just a bowl of apples and bananas in the marquee.
"Oh it's gorgeous is Rimington."
"Oh not many people are here yet… do you think they're out of bed?"
"We don't need any imposters… no silly names please."
"Is that a flying bat? Very…. artistic."
"Oh my god Fudge is in the cupboard." (Fudge is very cute cat)
"Don't tell the students that aren't in the answers to this quiz, you'll ruin it. There's only a few pleasures in life."
"y is 3 so we are happy bunnies."
"I'm vertically challenged."
(Mr Reeves comes in Year 9 maths lesson to tell them they all need to get picked up asap as a result of a confirmed coronavirus case)

Students: Mrs Chapman, can we get our phones out to message our parents?

Mrs Chapman: There's still 10 minutes of maths lesson yet.
"Medical forms are the bane of my existence."
(draws a pretty accurate circle on the board) "Ahh I must be going crazy."
Mrs Chapman: Ok, get your homework diaries out.

(Class groan)

Mrs Chapman: I want you to write down... 'have a fun holiday and eat some Easter eggs'

(class laugh)

Mrs Chapman: Write it down or I'll give you some real homework.
"I'm secretly a witch."
"Stick your sheets in or they'll end up in the abyss. The abyss that is your bedroom floor.'
(Repeated every lesson) "Syde hedding examples." - also says square like 'SQWAYER'
"So the line makes a shape like this." (throws whiteboard rubber) "They can look happy or sad."
Student: Do we get to have a fun lesson on our last maths lesson?

Mrs Chapman: (stares at student) What do you think? That's right, no.

Student 2: (heavily sarcastic) Yeahh what are you talking about, every maths lesson is a fun lesson.
"And there goes the little penguin."
Mrs Chapman: (to her top set class) Ok, who's finished the sheet?

Student: Pfft miss, what do you take us for? Good at maths?

Mrs Chapman: ...Well, yes.
Mrs Chapman: What is the probability of getting a 6, then a 6, and then another 6 whilst rolling a dice? *Writes on board P(666)*

Class: Oooohhhhh miss....

Mrs Chapman: It's nearly Halloween, it's fine.
(During a maths Christmas quiz) "And this logo is Pop-Eye. Oh I mean Poppi. Wait no, Peppi. Wait... Pepsi."
Mrs Chapman: (Student) are you angry?

Student: No?

Mrs Chapman: Then why did you shut the door with such... emotion?

Student: oh I walked into it.

Mrs Chapman: Well, deep breaths... Calm. In.... and out....
Student: Miss, I can't see your eyes... The light is reflecting off your glasses, it's weird because I can't see your emotions or what you're thinking.

Mrs Chapman: Good.
Mrs Chapman: Have some homework!

(Class groans)

Mrs Chapman: Don't do that!

Student: YAYYY!!!

Mrs Chapman: Now I know you're just lying.
Student: Miss, can we watch a film?

Chappers: No. Not this week, not next week, not the week after, not the week after that, not the week after that, and maybe the week after that.
Student: Miss, can we go home?

Mrs Chapman: Of course! Just not now.
Mrs Chapman: You can't just out your foot in the swamp! Can't you see the thousands of crocodiles swimming around you?

Student: Erm no.

Mrs Chapman: Use your imagination! Look! Everywhere you see, crocodiles! Swamp for miles! Keep thinking crocodiles!
"You little horror!"
"We are not Doctor Who in here!"
Mrs Chapman: Ok, so who agrees with this student's answer? (no one raises their hand) Ok, (student) why do you think this is?

Student: Because it's wrong.

Mrs Chapman: ...Well yes... but...
Student (while Mrs Chapman is talking): Wow! Why is it so big?

Mrs Chapman: Why is your mouth so big?
Student: Miss, there's a wasp! (class begins to freak out)

Mrs Chapman: Stop panicking! I'll get it.

(Wasp goes on roof)

Mrs Chapman: Right, move your stuff. (climbs onto someone's desk)

(Wasp flies away)

Mrs Chapman: oh for f- for god's sake!

(Wasp lands on a student)

Mrs Chapman: Hold still! You're doing really well. (whacks student with a thick GCSE textbook) Agh I missed!

Student 2: Its mother has come!

Mrs Chapman: What? Where??

Student 2: Just kidding!

Mrs Chapman: (Hits student with textbook)