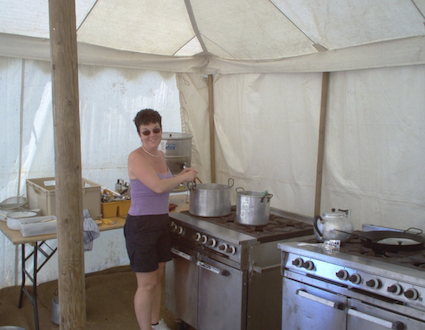 Miss Bowden was Head of Chemistry and possibly one of BRGS' longest standing teachers - she has been teaching here since the 80s!
She mostly teaches A-Level chemistry and teaches a lot in Room 1.
Miss Bowden is also one of the kitchen staff at Year 9 Camp and defends the kitchen realm militaristically, keeping everything in ship-shape. She does not appreciate it when you flip over the 'kitchen staff only' bunting so it says 'hens only', and we only narrowly escaped with our lives.
One student's fond memory of her states "I remember once a butterfly 'mysteriously died' in room one so she decided to burn it with a Bunsen burner. Good times."
Miss Bowden in fact went to BRGS as a student and was in the 'S form as a keen hockey player.
She has also been form tutor to Miss Butterworth and Mrs Sawle during their student days, and was reputed for throwing chalk at students instead of the not ineffective method of just telling them to be quiet.
One of the old Squirrel magazines dubbed her as the 'Demon Chalk Thrower' whilst the old BRGS Wiki stated "students talking in her class often found themselves subject to target practice with bits of chalk. Due to this, the change to whiteboards (and their associated pens) was not welcomed by her students in general, as covert conversations became rather more hazardous."
"I'll run you over with my car."
"Right kiddies, that's the 11+ answer, now let's have the A-Level one."
"Don't be so stupid! If you lean over the balcony like that you'll fall and break the piano!"