Look at the photo, and try to produce a fitting title for it, then write it in a space below (if you want with your name or alias/username - so you can get credit!) or in the comments below so a moderator can add it. Happy captioning!
Mr Porteous tries a new passive aggressive haggling technique for cardboard boxes - in order to get more building materials for corridors - with an innocent man who's desperately trying to signal to the camera person that Mr P has perhaps had one too many
After a stressful week running BRGS there was nothing more that Mr P liked to do on a Friday night that head to the pub and argue with a local wino by the dartboard.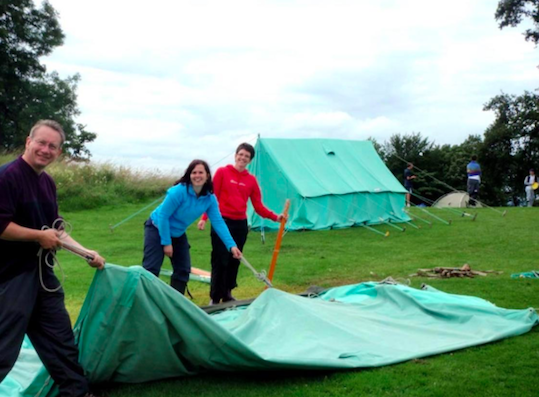 At his age Mr Reeves struggled to get it up on his own, but with Mrs Sawle firmly gripping his pole and Mrs Chapman shouting encouragement they got it standing proudly upright in the end...
Mrs Chapman takes her love for camping one step further and joins forces with Mr Porteous is setting up more building extensions, and in an extensive bid to save money opts for tentage over classrooms.
The maths department set about putting up a swanky new set of classrooms after Miss Whitaker blew the budget on printing off pirate game sheets
Winner: Mr Spencer, on the run from police after committing robbery at the local pet shop for Bonio dog biscuits, turns around to flash a cheeky smile at reporters before proceeding with his getaway.
Mr Spencer depicted holding onto his hope in this year's Yr13 classes
Mr Spencer desperately tried to climb the giant bean stalk to avoid the wrath of his fellow geography teachers after they found out he'd traded the department's only few possessions (3 battered textbooks, one VHS tape from the 90s, and 7 boxes of Bonio dog biscuit) for some magic beans
The giant beanstalk was an easy climb for Mr Spencer having successfully scaled both Mr Baird and Mr Morriss back in '04...
Mr Spencer, upon being told the rainforests no longer exist as a result of the geography department's excessive printing, sets about making his own paper from Waterfoot's local flora.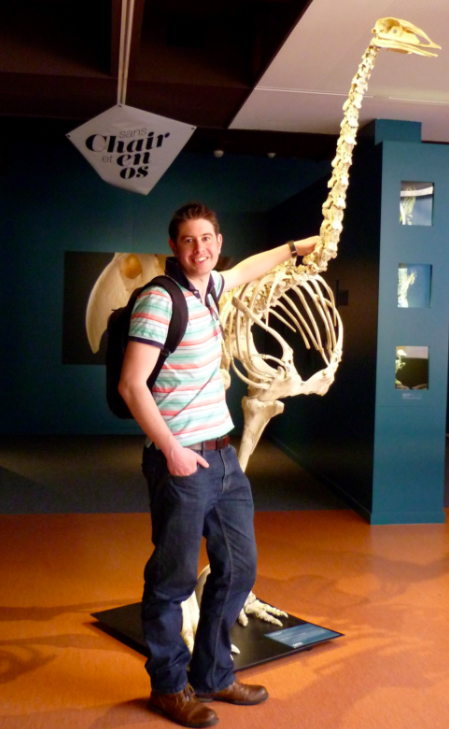 Winner: Miss Morris tried to take a photo of the lanky fossil... but the bird skeleton was distracting
On any trip abroad Wilko would always try it on with a local leggy bird but this was a step too far
Wilko stands with one of his old ancestors.
Big Bird is fast, but Wilko is faster
Year 7s trying to buddy up with Year 11s by calling them Gs
The winner…. "Right, get that squishy old fruit off this coach at once. He can leave the tomato though."
Mr Porteous, having just discovered gravity, is devastated to learn that this feat has already been accomplished 300 or so years earlier.
Unsure how to play or looking for inspiration? Have a look through some of the examples from the old BRGS Wiki's caption game below!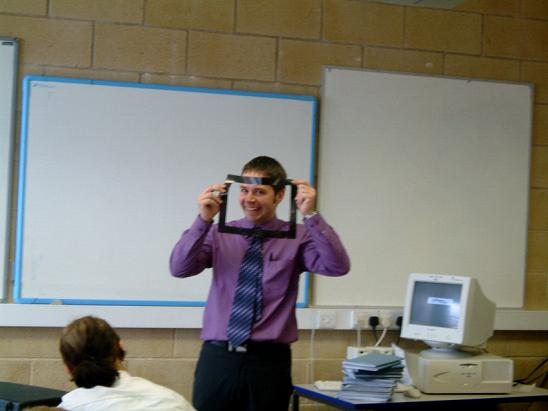 The winner...
"Having blown that year's Geography budget on Bonio dog biscuits, Mr Spencer set about making a spanky new television for room 56." Luke Bramwell
"Having heard Michael Winner telling him to calm down because its a commercial, he proceeds to greet his mother, who quickly runs away." 82.3.166.165 10:54, 11 February 2007 (UTC)
"Mr Spencer was amused for hours by the small rectangle of black plastic. Thinking it was a window, he shouted out of it at some kids playing football near his room and disturbing the lesson" (a memory from my year 12 days) - Chris
"Mr Spencer 'accidentally' frames himself when a student 'just happens' to be holding up a camera" - Jonny
"Mr Spencer wonders how stupid he can make himself look with a small black rectangle" - Nikki
"And for my next trick, I'm going to make the border of the 'city' disappear too! Everyone say the magic word; altogether now... Superclastifrageruptic-Diversifification!" - Glabrata
"Mum, look I am on telly" Gordo
"NO, ITS NOT WHAT YOU THINK, IVE BEEN FRAMED! FRAMED I TELL YOU!"mod
The students beg Mr. Spencer to take away the photo as they wish to see the real face of the man who has been teaching them for the past four weeks.Tar7arus 17:30, 7 February 2007 (UTC)
[In Bill Oddie voice] And here we have the native Mr Spencer trying to remake the Canon adverts for television Lamby 19:51, 9 February 2007 (UTC)
The winner....
Miss Bowden is unimpressed upon finishing her 20km pink-parachute jump after forgetting to remove the inconveniently placed top-box; thus failing to drop in through the sunroof and make a stylish drive-off exit. Onlooking sixth-formers who were just about to wrap up her car in a similar material look confused and bewildered. - David
"Oh thanks for the present guys... WOW is it... a car? Hey what's this it's my car!" Everyone shortly after scattering in all directions from Miss Bowden - Lamby 18:30, 29 November 2006 (UTC)
"dresses are not to be used to wash cars!"- pauline
"If any of you scruffy waster bums so much as look at my car and its decorative shawl, I'll skin you alive with this finger right here" (Proclaimed the mighty Bowden) - L
"If anyone dares suggest that this is my pink underwear then you'll out of here as fast as you can say 'ACETYL­SERYL­TYROSYL­SERYL­ISO­LEUCYL­THREONYL­SERYL­PROLYL­SERYL­GLUTAMINYL­PHENYL­ALANYL­VALYL­PHENYL­ALANYL­LEUCYL­SERYL ­SERYL­VALYL­TRYPTOPHYL­ALANYL­ASPARTYL­PROLYL­ISOLEUCYL­GLUTAMYL­LEUCYL­LEUCYL­ASPARAGINYL­VALYL­CYSTEINYL­THREONYL­SERYL ­SERYL­LEUCYL­GLYCYL­ASPARAGINYL­GLUTAMINYL­PHENYL­ALANYL­GLUTAMINYL­THREONYL­GLUTAMINYL­GLUTAMINYL­ALANYL­ARGINYL­THREON YL­THREONYL­GLUTAMINYL­VALYL­GLUTAMINYL­GLUTAMINYL­PHENYL­ALANYL­SERYL­GLUTAMINYL­VALYL­TRYPTOPHYL­LYSYL­PROLYL­PHENYL­ALAN YL­PROLYL­GLUTAMINYL­SERYL­THREONYL­VALYL­ARGINYL­PHENYL­ALANYL­PROLYL­GLYCYL­ASPARTYL­VALYL­TYROSYL­LYSYL­VALYL­TYROSYL­ARGI NYL­TYROSYL­ASPARAGINYL­ALANYL­VALYL­LEUCYL­ASPARTYL­PROLYL­LEUCYL­ISOLEUCYL­THREONYL­ALANYL­LEUCYL­LEUCYL­GLYCYL­THREONYL­PH ENYL­ALANYL­ASPARTYL­THREONYL­ARGINYL­ASPARAGINYL­ARGINYL­ISOLEUCYL­ISOLEUCYL­GLUTAMYL­VALYL­GLUTAMYL­ASPARAGINYL­GLUTAMIN YL­GLUTAMINYL­SERYL­PROLYL­THREONYL­THREONYL­ALANYL­GLUTAMYL­THREONYL­LEUCYL­ASPARTYL­ALANYL­THREONYL­ARGINYL­ARGINYL­VALYL­A SPARTYL­ASPARTYL­ALANYL­THREONYL­VALYL­ALANYL­ISOLEUCYL­ARGINYL­SERYL­ALANYL­ASPARAGINYL­ISOLEUCYL­ASPARAGINYL­LEUCYL­VALYL ­ASPARAGINYL­GLUTAMYL­LEUCYL­VALYL­ARGINYL­GLYCYL­THREONYL­GLYCYL­LEUCYL­TYROSYL­ASPARAGINYL­GLUTAMINYL­ASPARAGINYL­THREONY L­PHENYL­ALANYL­GLUTAMYL­SERYL­METHIONYL­SERYL­GLYCYL­LEUCYL­VALYL­TRYPTOPHYL­THREONYL­SERYL­ALANYL­PROLYL­ALANYL­SERINE'"
(That is actually a word, or so a chemistry site tells me) Rob My Page • Talk 22:47, 9 December 2006 (UTC)
"Steve had often wondered why his mum was considered someone 'not to be messed with' in the criminal underground" - 82.19.21.250 18:56, 4 November 2006 (GMT Standard Time)
"Now you've wrapped them round my car, I will demonstrate how to wrap a burette around your head" - Chris
"Is it any wonder that some car insurance companies don't want to insure me when I've got morons like you vandalising my automobile?!" - Heskey
After auditing Tom Davies for nearly running him over, Miss Bowden finally realises that she was in the wrong, not him!!! - Unknown
"I swear I wasn't drink driving!" - Tom Davies (That was way unfair when she nearly ran me over and gave me an audit)
"As the other students kept her distracted, the Artful Dominic attempted the back-window break-in attempt."- Nick
"OK, which one of you bastards unpacked my topbox???" Shadybean 23:53, 12 December 2006 (UTC)
¶ #3 Mr Reeves and his small drink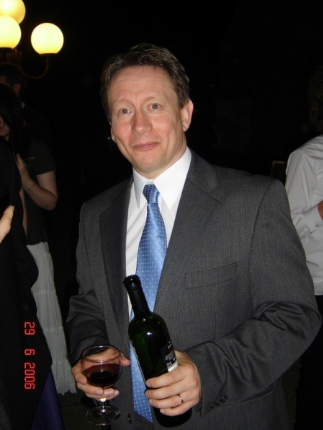 The winner...
"Ticket to party: £5. Suit: £50. Bottle of wine: £7. Watching a teacher get drunk: priceless"

"Wow i must be drunk, Mrs Kennedy is hotter than usual!" - unknown
"This Week on Americas drunkest teachers!" - Kronos 18:25, 29 October 2006 (GMT Standard Time)
"No, no, this isn't mine.. I'm not at a funny angle.. I'm not drunk!!" - Chris
'But in the morning you woke up next to this' -SRN
"The weird thing is, this is actually a Maths lesson..." - Elliot
"Me, the Third Duke of Winchester, working in a 6th Form, with my reputation???" MRW.
"What? I want a little wine with my din dins!" - Heskey
"If this is the standard of BRGS comedy I'll have to start on the hard stuff" Stevens
"No, I'll be needing the whole bottle, Mrs Chapman. This next trick's one that Simon Kroll taught me."
"Hi everybody. I'm 'Simon', and I'm a mathematician." - Glabrata
"I swear, it's blackcurrant..."
The reality of what he had just done with Mrs Gregson had just set in...