Mr Wilkinson is Head of the Physics Department and is well known throughout school for being chill. During the lockdown drill his weapon of choice was a clamp stand.
Like a few of the other physics teachers, he has proven himself to be an absolute memester and puts memes on the back of worksheets to get students to stick them in, and when Mrs Stevenson-Jones was off school ill he sent her a bunch of memes from the school meme pages which in her words 'made her day'. His favourite meme page is also BRGSMemes123 <3
(Dear Wilko, Mr Stringer most absolutely definitely wants the physics department to do a parody of the equation song for the 2021 leavers but just doesn't know how to raise it at the department meetings, he might deny everything but don't be fooled it's just a cover - Y11)
According to Miss Morris he has only bread for dinner.
According to Mr Stringer he is part of a Teachers' Secret Society.
When Mr Brandwood forgot his tie, Wilko decided he should step up and help poor Mr Brandwood solve his uniform issue. He did this by cutting out the shape of a tie from a plastic bag and leaving it on Mr Brandwood's desk with a note saying 'I got your back, bro'. Now, this would have been all fine but as Mr Brandwood was wearing it whilst teaching, Mr Porteous walked in to talk to him about the fecal matter on the floor of room 88 and upon seeing the state of his 'tie' he just went "I'll come back later" leaving a very panicked Mr B. When Mr Brandwood told Mr Wilkinson about the incident later, Wilko allegedly just laughed.
If you are lucky enough to speak to Mr Wilkinson about his life as a child, you will find out that he once applied to appear on "Jim'll Fix It!", the TV show hosted by the now-disgraced Jimmy Savile. The purpose of his application was for him and a friend to design the goalkeeper's jersey for Premier League team Tottenham Hotspur. Those who know Wilko well will question this due to his general lack of interest in football, however he justified this by claiming to have applied with a friend. Furthermore, upon discussion of the consequences of appearing on the show, he claimed "I was a right looker!" And "Jimmy would have done all sorts with me!"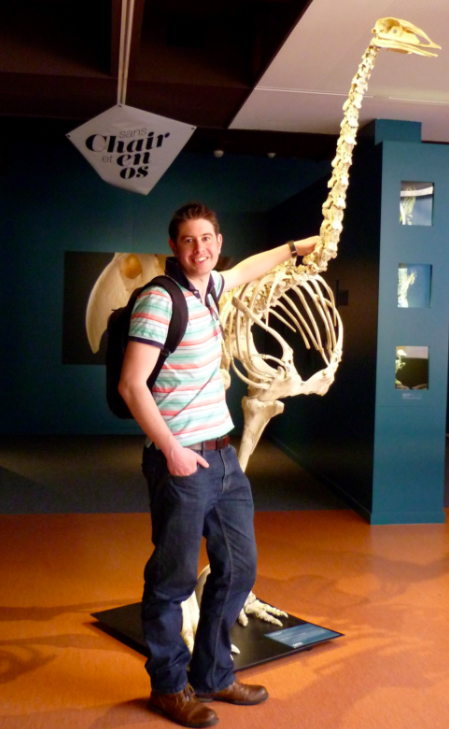 Being an intrepid ornithologist, Mr Wilkinson has collated many physics-y birds on his travels. This includes:
Firm favourite Dippy - along with his little top hat and bow tie, he is well on his way to becoming the 5th physics department member.
Pyramid Bird - Balances with its beak? Defies physics? We'll never know…
Museum Bird - pictured - Wilko on the left, 'lanky fossil' on the right.
"I need to get a calculator hold on one moment… I'll be back!" (leaves) - 10 seconds later - (crashes and bangs can be heard from off screen)
"And then if you click 'videos' you will see those 3 beautiful people… go on - go. Give it a watch. Bye bye. See you in a bit."
"I'm not a big fan of particle physics… bit weird."
(Walking into classroom) "Wagwan"
"Final thing to show you, there's my dinner… yum yum… nice little bit of bread."
"Why are we looking up at the ceiling?"
"I've just made myself two brews, why would you not? You could have two, one's never enough."
"I thought I'd show you around Wilko Towers… at least my kitchen anyway."
"You start to get a feel for the infrared."
"You have my jumper as a background."
"There's been a fight on the dance floor."
"If this doesn't work it will just be a video of me setting fire to stuff."
"Graphy graph graph."
"I am cloned 23 times, to be exact."
"Don't touch my bird. Nobody touches my bird."