The book 'The History of BRGS' is particularly wordy and tends to drag on a lot, talking about how many shillings it cost to pay for a hymm book for a few pages etcetera. To save you the time, we have provided a summary and some highlights of the over 100 page book.
Most of BRGS' history is relatively boring and mostly includes talking about the change from coal to electric heaters and the school's problems with dry rot.
In the past, older students would get new students and either force them to sing in the lunch room or wrap them in a rug in Room 7 and then push them down the coal chute to the boiler house (this initiation ceremony was dubbed "throwing to the lions"). Dear Year 7s, please keep this in mind before trying to pick a fight with one of us older years <3
Currently, in Year 7, your first few geography and history lessons are spent looking for dates on drainpipes and the bomb shelter in school (after spending an hour looking for it, many students were not too impressed when the history teachers in fact told us that there never has been one and it was just a joke question).
Upon further research, it turns out this was a double bluff and had lied to us, twice! There is in fact actually a bomb shelter somewhere on school grounds (possible where the staff car park currently is?), and the basement corridor at some point was stocked with sandbags in preparation of an air raid.
"Despite the relative safety of the valley, there were air-raid alerts. If one occurred during the night, Mrs. Kathleen Gowers (ace Ruston) tells us "we were allowed to go to school an hour later." Safe region or no, precautions had to be taken. Air-raid shelters were dug on the spare ground where the biology laboratory now stands (perhaps now the teachers' car park?). Potential new staff arriving for interview in 1945, when war was over, noticed the gloom of the basement, from which the packed sandbags had not yet been removed: the basement was prepared as an additional refuge in the event of an air-raid. As throughout the country, the gas-mask had to be carried on all occasions" - much more extreme than nowadays when all we need is a mask & hand sanitiser!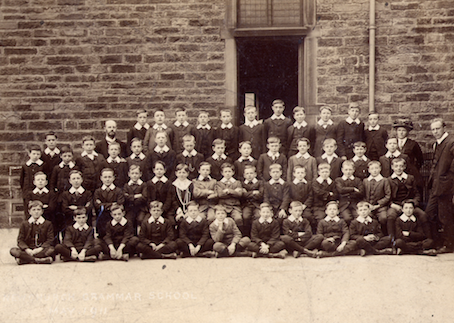 Towards the end of the 17th century, land was bequeathed by a certain John Kershaw to endow a school in the Waterfoot area of Rossendale for whatever reason. The school was eventually opened in 1701 and later moved to better premises across the valley in Newchurch, widely regarded as a bad move by the many students and staff members who now have to walk up that hill at least once a day.
The teachers of that school became the nucleus of the new staff at the Bacup and Rawtenstall Secondary and Technical School (later to change its name to Bacup and Rawtenstall Grammar School) which opened on the present site in 1913. The headmaster of Newchurch Grammar School became the first head of the new school. Significantly (or not depending on how invested you are in the school's history), there have been only six headteachers since his retirement.
In these times of educational upheaval, reorganisation and re-reorganisation and threat of reorganisation, one can feel much sympathy with the Head, staff and pupils of the then well-established and prospering Newchurch Grammar School when, in September 1913, the time of uprooting came.
The County Architect, Mr. Henry Littler, had designed the new school, though not without difficulties. Back in the day getting planning permission was just as hard and getting a wider school hall would have a cost a bunch more money - students who have ever had to go through assemblies with their knees almost up to their ears because of lack of space will likely argue this would have been a worthwhile investment.
This new building provided, at first, a secondary school for three hundred and sixty-two boys and girls (Alan's extensions since have boosted this number up to over a thousand higher), a small preparatory department, rooms for the evening classes of a Technical Institute and facilities for teaching such trades as weaving, spinning, boot and shoe manufacture and plumbing - subjects debatably more useful in day to day life than poetry or trigonometry.
Those who witnessed the opening of the school recall vividly the gleaming, fresh smelling woodwork, the desks as yet unscored by initial-carving penknives (or compasses/whiteboard pens nowadays for particularly bored chemistry students), the leonine head of Mr. Jackson and the trim figure of Miss Niness; the hated black woollen stockings, gym lessons in the hall, with the climbing-ropes fixed in the lofty roof, and the thrill of walking round the balcony (some may say this thrill hasn't gone away, one can easily find themselves wandering around it a couple of times at least).
Mr Jackson, the headmaster at the time, wished to understandably retire but was forced to stay to make sure the move to the current site went smoothly. He in fact stayed until 1921, perhaps as a result of bribery, there aren't many reasons that could make one stay at BRGS that long.
In the first twelve months it increased in size from one hundred and eighty-eight to two hundred and nineteen pupils. Mr. Jackson confidently described it, at the first Speech Day, as "a secondary school... worthy to be compared with any school in Lancashire and perhaps outside that county... a lusty infant" having "all the promise of a vigorous youth and of strong and useful manhood." which one may consider a bit of an unusual thing to say on a Speech Night but who knows, they olden days were strange times…
The local education authorities had acted just in time. Only twelve months after the school's "triumphant" inception came the first World War. The threat to civilians was much less at that time than it became during the second war, but the effects were nonetheless considerable. Unsure why this was considered considerable, yet BRGS' History states that a Mr. Harry Howard, of Bacup, who attended the school in 1916, comments: "The war had taken most of the male members of staff, replaced by, to our minds, very attractive ladies."
In this connection Mrs. E.M. Kershaw (nee Collinge) recalls Mr. Jackson at prayers, announcing casualties or promotions of those in the forces. She also remembers that wartime shortage of metal made it necessary, on Sports Day, to award certificates instead of the customary medals - what a tragedy.
It seems highly probable that food shortages were partly responsible for the discontinuing of the lunches provided at Mr. Jackson's house. War-time recollections of lunch-time arrangements seem to centre largely on the bringing of various comestibles to school in the fibre "tommy-box", taking food to be heated, then going to claim one's own at lunch-time. Shortages there certainly were. Mrs. Bessie Ashworth mentions the use of swede turnips instead of potatoes, which were scarce, and wonders if anyone tried to make chips from them. Ground at the front of the school was dug over and vegetables grown.
Mr. Leslie Stocks describes in his "History of John Maden & Son Ltd.," which we have permission to quote: "I well remember the day when war ended on Monday 11th November 1918. 20 The school was on half-term holiday, but we were playing a house match... when all the mill hooters in the Valley were sounded to announce the end of hostilities. We completed the match but had some trouble getting home as the trains and trams had ceased to run, and everyone had decided to take a holiday. We went to school the following morning and were given the rest of the week as a holiday, most of which was spent collecting wood for a bonfire."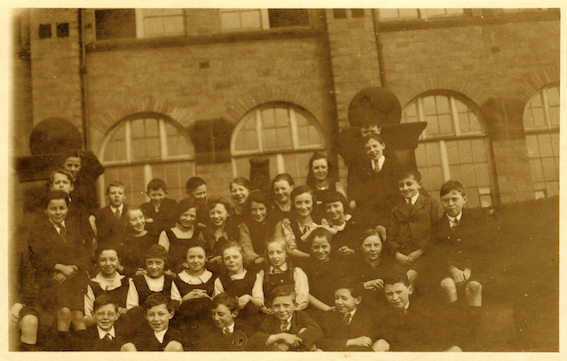 The inevitable economies followed the expense of conflict and victory: there could be no major additions to buildings, despite growing numbers - a tragedy for BRGS staff members who seem to consider corridors worth their weight in gold.
Former pupils of the 20s seem to have clear recollections of the arrangements that Miss Dodds describes: "Two rooms on the balcony, connected by a small kitchen-like room, were set aside, one for boys, one for girls (now Rooms 5, 6, and 7), where we took our dinners to eat. We could have a hot drink by paying a halfpenny for the hot water to brew our tea or cocoa, and could have a pie warmed for another halfpenny. The caretaker came round while we were eating to collect the money."
It would appear that, in those days, constant supervision by teaching staff was not considered such an absolute necessity, no welfare staff or Mr Reeves patrolling form rooms to give students sitting on desks penalty points back then!
It has frequently been a source of wonder also that the custom of "throwing to the lions" (i.e. pushing down the coal chute) of each unfortunate new boy, continued apparently unchecked for so many years. No-one seems to have suffered as a result of it, but these days it would probably result in Press headlines or even legal action! "The seniors," writes Mr. H.A. Howard, "made one stand on the steel scraper mat, which was then suddenly pulled from beneath the feet: then came the forced journey down the coal-shute into the boilerhouse." Others tell of being compelled to sing a song before this particular torture.
As mentioned earlier, this much respected and well-loved headmaster, having served Newchurch Grammar School for 21 years, had wished to retire when the school closed. Persuaded to remain and oversee the transition, he had steered the new secondary school through its initial stages and through the years of war. Staff who had taught with him, some as far back as the Newchurch days, were still there to tell newcomers stirring tales of Mr. Jackson's days at the helm.
Mr. Holden took over the headship of a school which now numbered about 350. Some of these pupils (probably only a handful by that time) would be in the Primary School: for until the mid-1920s the school took a few eight to ten year olds.
In a magnificent contribution (would there had been many more on this scale!), Mrs. Mary Holt (nee Taylor) recalls her memories of schooldays from 1924 to 1931. "In 1926," she writes, "there was a coal strike which developed into a General Strike. Trains and trams did not run, so we made our way to school by walking or begging a lift on any passing vehicle." Some students nowadays may relate to a similar experience as a result of the temperamental bus services.
The School's name was changed, in 1928, to "Grammar School", yet it is interesting (is it?) to note that more technical subjects were eventually introduced into the curriculum.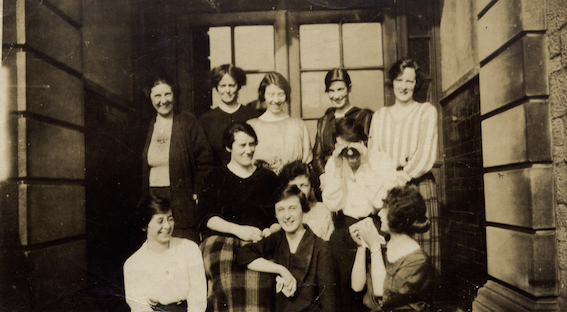 The appointment of Mr. E.H. Holden as headmaster continued to ensure that there was more emphasis on science in the curriculum than was typical of the country as a whole. The well-developed Science side of the school was deficient, as were most schools, in that no Biology was taught (reading this you may believe you were born in the wrong generation). The subject was not regarded as essential.
Dr. Ormerod speaks of a drive in the early 1930's to train Biology teachers, and tells us that the subject, once introduced into the school, rapidly grew in regard, particularly for aspiring students of medicine and dentistry. In 1937 the subjects included maths, physics, chemistry, French, Latin, history, English language and literature. At that time the range of subjects offered to sixth-formers was also far more limited, and the sixth-form of course very much smaller.
As Dr. Ormerod points out, the sixth form classes at this time were considerably smaller, since it was then possible for pupils to leave at 14, but there were full-scale school examinations and reports every term, also half-term tests, with lists in order of merit on each occasion. Never a dull moment for the staff. (Or students!)
In 1931 the current geography department was built, which provided new classrooms, rooms for Art, Woodwork and Metalwork. The new classrooms, three in number, open from the corridor which is still, after over 55 years, called "The Extension Corridor"!
Protected to a large extent from air activity by its surrounding hills, and by its position a fair distance from any large target, Rossendale became a "reception area," taking evacuees from vulnerable spots. The most obvious of these was Manchester. Upon the declaration of war in 1939, a contingent of girls from Whalley Range High School arrived in the valley. For a short time there was some disruption of school life. Miss D. Moore tells us how "each child had to share its desk with an opposite number from Whalley Range. One week we spent the mornings in school and the 400 girls of Whalley Range the afternoons. The arrangement was reversed the following week, and so on."
Impressions from the other point of view have been kindly supplied to BRGS by Mrs. Marjorie Amphlett, who was one of the Whalley Range evacuees of that time. Of the desk-sharing arrangements, she reveals that "some of the boys used to leave a photo of themselves, with perhaps a note, in their desks, for the girls who would be using the desks that afternoon." She concludes: "My friends and I remember our time in Stacksteads and Waterfoot very fondly, and regularly return there for a day out. We look at the school, go to our avenue, look for the Church Hall where it all started, and remember happy days gone by."
Apart from this slight disturbance of only one term's duration, the school must have been fortunate by comparison with many at that time. Further extensions which had been started (surprise, surprise!), including the long-awaited gymnasium, would probably have been abandoned for the duration, but in deference to the local climate the work was completed.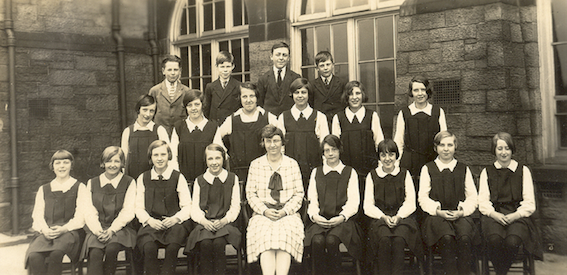 Despite the relative safety of the valley, there were air-raid alerts. If one occurred during the night, Mrs. Kathleen Gowers (ace Ruston) tells us "we were allowed to go to school an hour later." Safe region or no, precautions had to be taken. Air-raid shelters were dug on the spare ground where the biology laboratory now stands (perhaps now the teachers' car park?). Potential new staff arriving for interview in 1945, when war was over, noticed the gloom of the basement, from which the packed sandbags had not yet been removed: the basement was prepared as an additional refuge in the event of an air-raid. As throughout the country, the gas-mask had to be carried on all occasions - much more extreme than nowadays when all we need is a mask & hand sanitiser!
Paper was extremely scarce, had often been re-cycled and was of poor quality. Every scrap had to be used economically. Surprisingly, that did not prevent regular examinations being held. ("Standards had to be maintained, war or no war." bit harsh, very dystopian, isn't it?) One war-time effort which fell to the girls in particular (olden times, ey?) was knitting for the forces. Mrs. Gowers tells us that badges were awarded to those who completed a certain number of scarves, gloves, helmets, etc.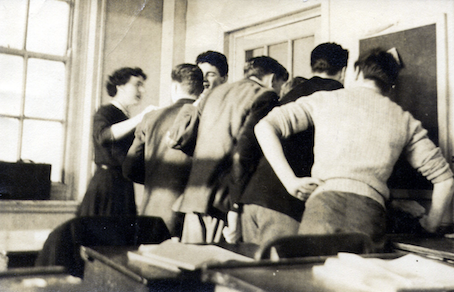 (Warning: This is the chapter that just talks about the unpredictable boilers, skip ahead for your own sanity if you have any common sense. We have tried to whittle away as much of it as possible but if I read the word 'boiler' or 'heating' one more time I will throw my laptop against the wall and run out of the room screaming.)
Prefabricated buildings (designed for a ten-year life and were still in use up until about a decade ago or so) were eventually erected. The new structures had many disadvantages, particularly in winter. Initially they were heated by coke stoves, which could obviously be a source of danger. Pupils were forbidden to touch these: the feeding of them during school time devolved upon the staff, with the inevitable consequences that some stoked and some didn't, so the stoves frequently went out. Experiments with gas and electric radiators led to unacceptable condensation, and eventually, after long struggles, in 1969 the two new units were linked to the main heating system.
Heating, indeed, was frequently a problem (still is). Antiquated boilers would fail, or fuel would run out. Once a desperate deputation braved the lion (Mr. Holden) in his den, pointing out that, whereas staff could (and normally did) move about in a classroom, pupils had to sit shivering, clad in coats, scarves, gloves. He closed the school. But BRGS was tough resilient! It took a good deal to frighten them off. Mr. Copley recalls "that very deep snowfall, shortly after Hitler's war (1947?) Somehow eighty heroic pupils and nine even more heroic teachers managed to get to school by 9.30 a.m. School was abandoned for the day. Next day numbers doubled and, by the third day, school was back to normal. That was the winter when deep snow lay for about six weeks, and children from outlying farms came to school on sledges" - students who come to school these days on buses can only dream of such methods of coming to school.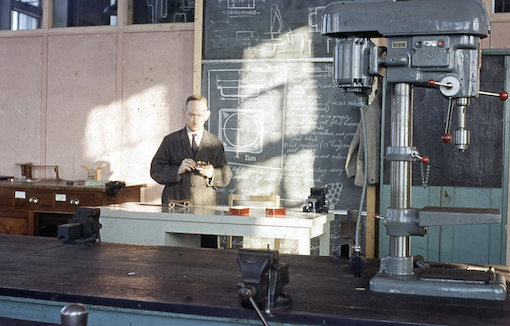 An experimental Parents' Evening was held, there being no notion of how popular or otherwise such an occasion would be. This was in February 1949. Today's staff, long accustomed to regular visits by parents, will readily imagine the conditions as parents of the whole school converged upon the building! Some staff, including the Head, were besieged until after midnight (some staff may argue that parents evenings nowadays still feel like this). The experiment could well be described as a success (students ever since have widely regarded this as a bad move), but the following year a division was made between juniors and seniors to avoid the vastly long queues.
The authorities elected to send in an invasion of decorators. It was a source of wonderment to all that, with twelve weeks of holiday available in the course of the year, such capers must needs take place in school time. "They remained with us," Mr. Copley complains in the 'Anthology', "until well into January, and plastered the school with 'Wet-Paint' notices. Miss Greenwood spent a small fortune on bottles of turpentine, to be kept at strategic points to remove paint from pupils' uniforms." (Surely, one would think grammar school children would be able to read a wet-paint notice.) Corridors already too narrow for the numbers using them (not much has changed then!) would be painted, and little chalk warnings would be written on the floor under a painted radiator: then would come break, and a resultant host of stripy children!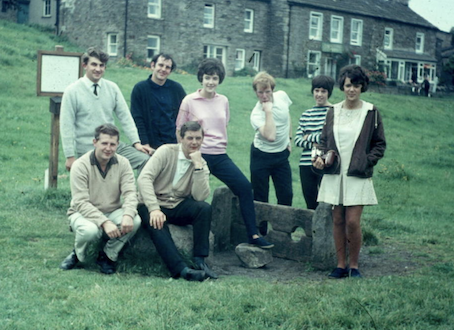 Mr. Clark had inherited a nucleus of long-serving and experienced staff, plus a goodly number of young keen members who appreciated his efforts to keep the place "on its toes." When he took over, the school numbered over 700 pupils, the staff over 40 teachers, of whom some 12 were former students. Of that staff, 19 members were still at B.R.G.S. in 1987, eight having retired in the course of Mr. Clark's headship.
The new Headmaster soon became deeply involved in the life of the school, showing a lively interest in all its activities. He once epitomised his own attitude in these words from the platform: "I stand between stability and stagnation." He was, in fact, standing between the Deputy Head, Mr. Frank Harding, and the Senior Mistress, Miss Jean Macleroy. The latter recalls that she turned to Mr. Harding afterwards, extending her hand, and said: "Stability, I presume? Meet Stagnation." It was true, though. Traditions that older staff had feared for were maintained, while new ideas were introduced with not too revolutionary speed. The school was in good hands. The staff was somewhat shaken by Mr Holden's invitation to sherry and mince-pies at his own home after an early breaking-up on the last afternoon of the Christmas term.
1961 was the year of a silent protest that hit national news.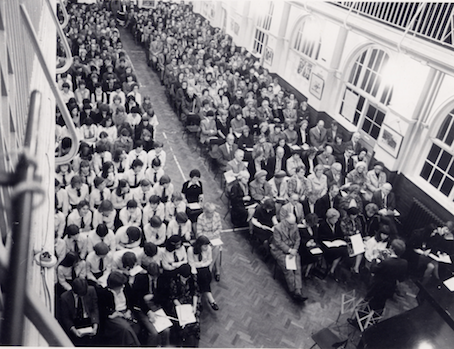 Mr. Clark, worried about depleted school funds, decreed that crisps should be sold in the Hall at morning breaks (perhaps not the first fundraising idea one would have thought of). Third-form pupils were detailed off to leave their lessons slightly early and sell crisps at the beginning of break. This was one of several money-raising ventures, and it may well be that local criminal elements thought the school must have large hoards of money on its premises. Crisp sales began in March 1970, and in May came the first of a series of burglaries. The door of the Head's room had been smashed in, but he had immediately pinned up the cheerful notice: "Business as usual!"
The Summer of 1970 saw the formal opening of the new biology laboratory (how many times has this new biology laboratory been mentioned??). The school rabbits lived there in positive luxury, their requirements attended to even throughout the holidays! By this time, each form had its captain and vice-captain, proudly wearing metal badges to proclaim their (widely regarded unused, or especially nowadays) positions. Each form, too, had a form prefect.
It was typical of Mr. Clark that he regarded the lovely big room allocated to him as excessively large for his requirements. Most people have by now forgotten its fine proportions. Much to the regret of many of the staff, in the holidays of 1971, the room was partitioned, a new cloakroom made, and a good piece of the Head's former room allocated to the secretarial staff, whose living-space Mr. Clark had considered totally inadequate. Subsequent staff-meetings were held in the Library, the diminished room being far too small for a staff far larger than the 30 of Mr. Holden's time.
It was not until some time afterwards that the beginning of the year 1979 became endowed with its nickname of "the winter of discontent", but how well it earned that name! Certainly it was, to put it mildly, a trying time for B.R.G.S. To start with, the Rossendale weather was at its grimmest, with fall after fall of heavy snow, freezing rain, bitter cold (not much different from usual really): there was even a fall of snow at the beginning of May. It was the period when various public services went on strike. Water-board employees were not mending bursts, which were unfortunately frequent owing to the severe frosts. One day in January the school was forced to close because care-taking staff withdrew their labour. (Worse was to come later, when in the Spring of the same year the school was forced to close for a walk-out of teaching staff, and the normally non-militants at that!)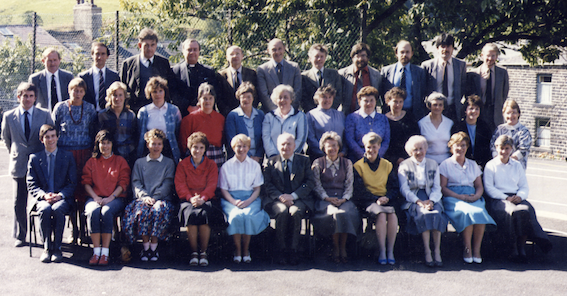 1980 saw the discovery of dry-rot in the building walls stripped of plaster down to the brickwork, rooms successively out of use while workmen chipped away (there truly are some riveting stories within these chapters). The next trauma (inevitably during hard wintry weather) was the failure of the boilers (noticing a pattern?) in January 1981. The resilient Head sent for 35 electric heaters and one crisis more was overcome.
The council elections of May 1981 saw Lancashire County with a Labour majority, and by June there were posters announcing "East Lancashire Grammar Schools face axe."
A very successful, well-attended re-union took place in the afternoon and evening of Saturday, September 10th 1983, somewhat irrelevant to the other events of the 80s but oh well we all need a break from politics from time to time. One of the highlights of the occasion was the unveiling, by Mr. Copley, of a portrait of himself (I know, very modest, right?) destined to hang in the hall with those of his predecessors, Mr. Holden and Mr. Jackson.
There were vague rumblings of reorganisation, too: a suggestion that B.R.G.S. could be amalgamated with Alder Grange in its new building. Nothing came of that (thank God), however, as County was still hankering after 11-16 schools with Tertiary College.
Keen Archivists from the P.T.A. were, as could be expected, eager protagonists of the "Save the Grammar School" lobby, and this consideration was soon to oust all others, at least for the time being. In fact, only two more Archives meetings took place. It is always invidious to mention names, but three persons in particular stand out Mrs. Jean Booth, Mrs. Bobbie Taylor and Mrs. Mary Abbott. These three members of the P.T.A. had weathered the earlier struggle as mothers of junior children.
However, their daughters were still in school, as seniors, when the second campaign had to be fought. And how they fought with fresh reinforcements as enthusiastic as they, notably Mrs. Jackie Carter and Mrs. Ann Barnes. The petition was carried into every nook and cranny of the district until it had topped the 10,000 signatures aimed at. This time, a ballot of parents was held, which resulted in 90% support for the retention of the school in its existing form.
The Ministry of Education did decide in favour of retaining B.R.G.S. in its present form and made its decision known, as before, during the month of August.
¶ The Double 0s and beyond!
The peak of BRGS! Still having easier GCSEs and A-Levels, teachers had much more time for taking students on school trips or various other extra-curricular activities. Going through the photo galleries it seems like every other week they had something like 'Trombone day', 'Movember', 'Pink Day' or just a whole school walk because what else was there to do? Students these days at BRGS can only dream of such activities.
A slow descent into chaos as the Department of Education decided it was time to mess with student's mental health and make them learn a bunch more useless topics for their GCSEs and A-Levels and throw a number of year groups into the deep end by continuously shifting around the grading system.
In response to this BRGS has cut down on the number of trips and fun activities, with even the infamous enrichment week becoming educational rather than fun. Nowadays all we get is the rare non-uniform day or bake sale if we're lucky (well, that is when we were actually in school). 2012 is also when Mr Porteous took over the reigns at BRGS, may this have anything to do with it…?
Not off to a good start… Less than two weeks into the 2020/21 school year the majority of school had been sent home!