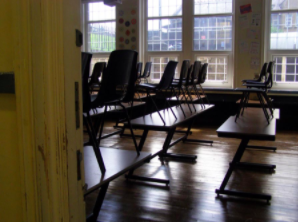 Room 55 is a geography classroom. This is Miss Foster's room.
Like all geography classrooms, it is along the Extension corridor and is a pain to get into as the corridor gets very cramped.
All the geography rooms also recently got the same treatment as the rooms in the hall and therefore got painted grey, along with some new grey chairs and tables, giving all the classrooms a very miserable look overall.
Back in the days it used to be a maths room.