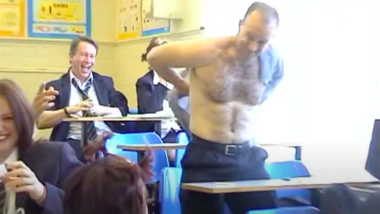 Mr Wyton is the current Head of Modern Foreign Languages and is well known for doing a lot of triathlons, the 'Class from Hell' videos, and his blunt-yet-effective teaching methods. Under his reign, the main language that each year learns was changed from Spanish to German.
Mr. Wyton's middle name is Nelson. This is not a fact he wished to be disclosed, but was eventually discovered by the GCSE German set of 2004 - 2006 in early 2005, by a Daniel Smith, with thanks from his son, Thomas. After realising what Tom was indeed Mr Wyton's son, this was the first thing he asked him. This led to Daniel translating 'Nellie the Elephant' into German, and then reciting it at least twice a lesson. For a year.
In 2017, the Old BRGS Wiki was rediscovered by some eager Year 10s. Immediately many facts about teachers were brought back into the public eye. Mr Wyton's GCSE class at this time found out that Nelson was his middle name. Inspired by their predecessors, Muheedul Chowdhury, Jack James, Max Broughton, Matthew Szelesi, Nathan Scheider and Conor Whitham terrorised Mr Wyton over his name. This started with writing Nelson in whiteboard pen just out of reach of Mr Wyton and his short stature, which evolved into writing it on the board as much as possible before the lesson, pinning Post-It notes to the bottom of his computer mouse so he would have to read it to take the note off, involving the name Nelson in group speaking tasks and lastly standing at the door of a lesson they were not in with a piece of paper saying the dreaded word.
At the end of their GCSEs the boys sent Mr Wyton a goodbye card from Moon Pig that read 'Goodbye Nelson'.
To every lower year group he has, he likes to tell them a ghost story. Depending on the class' nature, they are either scared to death or just laugh and sing a song about combine harvesters.
His anecdotes are great, not only are they a distraction from lessons yet also indeed often funny as a result of the way he delivers them. Most revolve around him misbehaving in his childhood.
"If you were 5 years older I'd take your knee caps."
"This is hell on toast."
"What I lack in height I make up for in aggression."
Student: I wasn't actually here for the homework being given out sir so I haven't got it

Mr Wyton: In Year 7 that might be accepted but in GCSE we have a different word for it… BULLSHIT
"LET ME JUST STAB THIS PIN IN, YOU DUMB PIECE OF PLASTIC."
"Now lets try performing some mimes!"
Student: Sir, it says 'Smastag' on the board rather than 'Samstag'.

Wyton: Clearly I was drunk on Friday when writing that.
"I'm more of a grandfather type of guy as long as it means I don't need to give anyone birthday presents."
Student: Sir, can you teach our rubber duck the German alphabet in army dance style?

Wyton: Well --

Bowdler: What? Do you do stamping and all??
"We'd better start the lesson before (student) goes off drawing helicopters again."

Student: (lifting up whiteboard) Sir, do you like my drawing?

Wyton: Are my lessons really that boring?

Miss Jackson: (just walking through classroom) ah you've just confirmed my suspicions.

Wyton: (student) could you not have timed that so that my colleague wasn't walking through the room??
Wyton: So what do you notice grammatically about these sentences?

Student: Well sir, the thing about the red and the black ones....

Wyton: He's gonna get it!

Student: Is that they have the exact same words in them

Wyton: And HA THATS WRONG! AAAAAAAHGAH.
"And (student) how on earth did you get such good results?"

Student: I don't know, sir.

"But you've done nothing all year! I had to mark your test twice to make sure it was real!"
"How on earth did you get that wrong?? Anyone have a gun? No? A knife? Even a big stick will do."
"If you get this wrong I will slap you. Just kidding - oh wait, what's that running down there? Oh, it's just my job."
(During terrorist lockdown drill) "Ah, this should hold them off." (Slams table against door)
Wyton: I remember when I was in your reception, so you know 60s - 70s, and we had the most horrible teacher. Miss Leyland she was called. And she was a witch! And you know what she wrote on my report?! "Truculent!" And of course, I had no idea what it meant, so when I showed my mum that night, I got an absolute battering.

Student: What does truculent mean?

Wyton: Look it up when you get home.

Siri underneath someone's desk: What is truculent? Looking up truculent. Eager or quick to argue or fight; aggressively defiant.

Student: You were an aggressively defiant toddler?

Wyton: Yeah, always answering back I was. If I was told to sit down, I'd go 'no, why would I do that?' When I was 20 and in uni, I got a break for the Christmas holiday, so I went back to home on the train. And you know how on the train you always try to avoid meeting people in the eye? Well, I was sat at this table seat, and someone sat on the other side. It was Miss Leyland. I thought she wouldn't notice me, you know, I was in my receptions then, and now I was in my 20s. But oh no. She points her finger and me and goes in her witchy voice, (mimics witchy voice and points at class) "Paul Wytonnn."