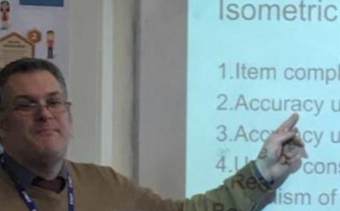 Mr Grundy is a DT teacher, who despite his short only 2 year stay at BRGS, managed to turn around the workshop and clear out Room 61 behind it to make it into a laptop room (anyone who saw Room 61 in its previous state will be aware of how much effort it must have taken to get it into its current unblemished - apart from a couple of pencils in the floor - state). He liked to complain about the lack of funds for DT and anything Mr Fitton brought into place. He is said to remind people of a Womble (look it up). Mr Grundy also has a cat called Tofu.
Mr Grundy now lives in Devon, and has done for the past year or so, even though he is a teacher in BRGS, a school that is almost 5 hours drive away. He managed this impressive feat by abandoning his family each week to drive up to Rawtenstall and then back down to Devon for the weekends. It is not sure why anyone would want to go to this much effort to teach in Waterfoot of all places, and most would probably say it's not worth a 10 minute drive, let alone 5 hours.
Mr Grundy from the moment he set foot into BRGS has formed a deep dislike for the teacher that is (well, was) Mr Fitton, and although never actually meeting him, his sixth sense could tell him what an unlikeable and cantankerous man Jonathan was. In response to this, a lot of his lessons included conversations about anything Mr Fitton did wrong and what a bad tech teacher he was. He also altered the iconic 5 GAs and lets students draw in pencil. Rubbers, however, are still banned.
"And to use this tool we stroke the wood like we'd stroke a cat only we don't stroke cats with nails."
"Don't walk around with a blade pointing like an extension of your arm. If you want someone's attention don't start poking them with scissors."
Student: (whilst leaving classroom) Thank you, sir.

Mr Grundy: Seizure! Don't have one.
(female student raises hand)

Mr Grundy: "You alright babes?"

(other students exclaim, e.g. 'you can't say that sir!')

Mr Grundy: "Nah its fine, I call my daughter babes."
"If you're happy, I can't be, so be quiet."