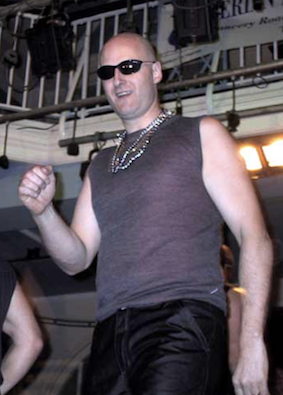 Many have heard of the man that is Jonathan Fitton. Either for his strict teaching method, the 5GAs or his love for tractors.
Anyone who joined BRGS before 2018 will have had Mr Fitton as a DT teacher, because he was the only DT teacher.
On the last lesson of our rotation with him before Christmas, he told us a weird (supposed to be sad I think?) story about how his children didn't speak to him anymore and when they were kids he bought them a pool table and they would buy him new lights for his tractor. Mr Fitton can also play guitar.
"We were once in the staffroom and Mr Fitton was playing his guitar and he lifted his leg up to play guitar but he was only wearing a very short pair of shorts and we thought 'oh god please stop' but he had no idea and I didn't have the heart to tell him, and I can't even remember if he played the guitar well or not because we had such an experience." ~ certain history teacher
He didn't like anyone unless you pretended to love CREO or some other design thingy he showed you in lesson. We once came across him in the chippy at talked (sarcastically but he didn't notice) to him about 'The Engineer' (a magazine Mr F made everyone read at the start of every lesson) and I think it was the first time I've seen him smile in 3 years.
He also likes:
Things with an 'ergonomic design' (eg. the plastic school chairs because they are curved)
'Non-biros' (pens that have ran out)
Shouting at his class for no particular reason
His form (most of the time)
Hexbugs
Tractors and tractor lights
The 5GAs and the 10 steps to CREO
2D Design V2, a horrible piece of design software that we are forced to use for the laser cutter. You can only undo once!
His so called 'Fitton Spinners' which Mr Grundy revealed that actually the design already came with the 3D printer

It was also later revealed by Mrs Milligan (the DT technician) that she printed the spinners, not Mr F.
"Put the ball and chain around your neck and jump in the river."
"Use a non biro, that's a biro without ink."
"You must educate the fold!"
"I'm sorry for being such an angry bear yesterday."
(At the start of each school year) "My name is Mr Fitton, but please, call me Mr F!" (No one ever did as they were too scared of him)
Student: Sir, do teachers have friends that are teachers?

Mr Fitton: Of course!

Student: Do you have any friends who are teachers at BRGS?

Mr Fitton: Ermm... Yeah there was this one guy who retired about 10 years ago now but he still comes to our house for Christmas dinner sometimes.
"Wow! 3D printing!"
(During an oracy session) "Sex is a wonderful thing."
(His parting words) "Don't forget to chamfer your bottoms!"
"How did you pass the 11+??!"