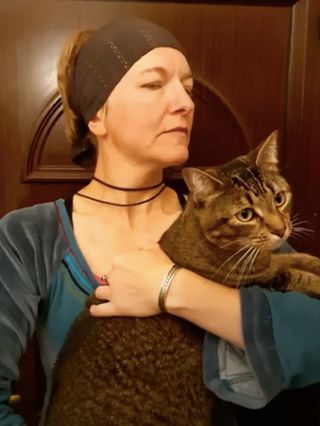 Ms Marti is a brilliantly eccentric and lovely German teacher who is actually Swiss. Although she only teaches German, it is possible she speaks every other language known to man (and many more). This was proven during one Spanish lesson we had when she came in and rather than speaking in English to Miss Winchester they decided to converse in French as we didn't take it. They continued like this for about half the lesson, a lot of which sounded like mocking our class but we'll never know.
During the lockdown (terrorist drill not corona) she sat behind the door and did yoga, whilst our class was painfully stuck in silence under the worst table design. If you have her for German you'll likely get achievement points for simply breathing, even if you aren't in that day. She is also good friends with Miss Morris and Mrs Porteous.
Likes: Cats, yoga, knitting, books, Rammstein, manga, and Studio Ghibli (but then again, who doesn't?)
Ms Marti is the inventor of Grammar King, the much-loved little monster who resides on any PowerPoint slides that give grammar tips. Grammar King watches over Ms Marti's German lessons from above the whiteboard, as it was made into a felted toy. It is possible that there is a whole chain of merchandise coming out from t-shirts to badges to shower curtains. Grammar King was once kidnapped by some students and took him home to show him around then brought him back to the oblivious Ms Marti the next day. She was also the introducer of Kuchendonnerstag (or whichever day you'd have German with her).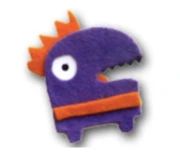 "Lovely monsters are my favorite monsters"
In reference to the new school bell "Everybody, prepare to die."
Student: Ms Marti, can I ask you a question?

Ms M: Of course!

Student: Where do those steps go?

Ms M: (Without missing a beat) That's where we bury the dead bodies.
"Hey look, there's arsenic in the water. No. Not yay."
"Can I collect in all your passports that are collectable-inable?"
"I'm Swiss. I don't do bowling."
(Whilst reading out from the sheet in End of Year Exams) "And Year 7s, you have maths bracket calc bracket next."
"I will personally strangle anyone who comes in tomorrow and doesn't know what 'der Arm' is."
"Remember, we should be joining up those sentences, especially since its nearly Christmas. Don't let those sentences be lonely on Christmas!"
"We're all yogis now!"
(About to look in the cupboard for textbooks) "I'm just going into Narnia - if I'm not back in 20 minutes come and find me."

(Builders making noise outside the building) "Looks like Mr Tumnus is trying to get out of Narnia."
"And 'muss' is just a badass modal verb and doesn't actually follow the usual rules."
"A Loch Ness Monster of bananas!"
"It's my knitting pattern for a question."
"'Weil' just kicks around all those infinitives."