Mrs Stevenson-Jones is one of the (if not the most) fun and legendary chemistry teachers at BRGS. Her emails are widely considered one step away from poetry and it is without doubt possible that the English GCSE exam board may use them in future for students to analyse. She took over from Dr Kirk (a temporary teacher) and basically saved Intake 12's GCSEs.
Mrs Stevenson-Jones had only seen the Lion King for the first time in a lesson with her Year 11s, and according to Mrs Wharmby, she came into the staffroom and started talking about how film is all about abuse.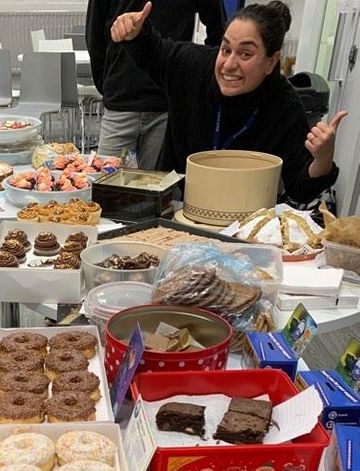 Like many teachers, she does not care for sheets that aren't stuck in but be warned if you are one of the people who does not care for a glue stick this can lead to many glares from Stevey-J especially if your sheets are all over the desk. Keep in mind that there will only be sheets - never booklets - this is because of a Chemistry department rule to never print booklets. However, Mrs SJ has been known to be rebellious a couple of times, leading to lessons where the word 'booklet' is whispered across the classroom to avoid anyone who might be walking past the class from hearing it.
Likes to talk about various Scottish historians.
Makes the best brownies and has been described by fellow chemistry teacher as "literally the nicest person on the planet".
Often found singing in room 5
Mrs Stevenson-Jones teaches not one, not two, but in fact 3 Year 10 (now 12) chemistry classes (we have no idea how she copes! update: it appears she was unable to deal with us and has sent one of her classes to Mrs Wharmby) and at the start of the school year it is said we were her favourite year group, however as the months went on it is more than likely we have sunk down to maybe 5th favourite year group (because no matter how bad we are Year 7s and 8s will still always be worse). Of course the Year 12s also run probably her least favourite meme page which doesn't help.
Intake 16's plummet in popularity may have been due to the widespread idea of getting the taller people in the class to put whiteboard pens in high up places in the classroom that Mrs Stevenson-Jones cannot reach. Such places include the top of the whiteboard, the weird ledges Room 5's old design features involve, and the top of the projector. If you go into her lessons after a Year 11 class has taken place you may find phrases like 'chemistry bad' at the top of the whiteboard.
Mrs Stevenson-Jones fortunately decided to take action during the dabbing spree of 2016 and would give anyone a penalty point if they dabbed. Of course, Stevey-J herself needed a good excuse to dab and therefore called into place a dabbing policy for her lessons. Once one has mastered quantitative chemistry, they may dab. Of course, because this is only covered in Year 10, some students made it a personal target to get in as many dabs whilst she had her back turned. One chemistry table even had a risky competition between themselves to see who could get the most dabs by the end of the lesson.
Of course, since dabbing has been slowly phased out, the 'woah' has been a thing. Anyway, during this time the procrastinating 10J1 (now 11J1, although she has banished us to Mrs Wharmby presumably because we are just too delightful) decided to try and teach Mrs Stevenson-Jones how to do the woah. Since then, she has been sighted doing the woah in her classes, her form and even the 2020 German Exchange.
Many can't forget when Mrs Stevenson-Jones had laryngitis and despite all recommendations she decided to come in anyway and teach despite the fact she couldn't actually speak. This led to possibly some of the most entertaining chemistry lessons of 2019 as any content trying to be taught to us sounded like someone was trying to communicate it to a dog via dog whistle, or a nearby person was waving a squeaky gate hinge around.
"Ladies and gentlemen isn't inclusive - if I say hoodlybeans it includes all colours of the rainbow."
"You know that 6 marker you had to about glass bottles and plastic bottles? Just after I set you that, I was teaching my Year 10s and the doorbell went. And I was like 'I'm not expecting a parcel.' so who's at the door, might have been a postman - so I went to the door and I was accosted - literally accosted - I had year 10 on google meet, and this guy from a company called the 'Modern Milkman' appeared at the door. I mean, milkmen don't really exist anymore, but they had restarted this company - which they deliver milk and eggs. It's not dodgy at all - it's a country wide thing, I did check it. But like 10 minutes I had to like stand there while he signed me up and I was like 'Pleasee I need to go teach, mate, can I just do this later?' and he was like 'no you won't get the discount unless you do it now.' and I was like 'nooooo I don't care about the discount just let me go and teach'."
"Eughhh what's that? …Weird gunky stuff on my desk… Hold on uno momento. Ohhh I think it's just glue."
"Spanish is a cute language but you can't be cute in German."
"I'm not gonna go hang out on some street corner with some chavs"
"I look like a water molecule"
"I live for you guys saying thanks it makes me want to be alive"
"I'm good. Except my feet are cold. I think its 'cos i had too much coffee."
Stevey-J "How on earth did you get your hand stuck in the chair!"

Student - "Uhhh idk I just stuck my hand in there…"

Stevey-J "Well maybe some butter could slip it out"
"No dabbing in the lab!"
"I've got a stool in my kitchen 'cos I'm really short and I can't reach any of the cupboards"
"I didn't give you up - it wasn't my decision! I'll add you all back to my Google Classroom if you'd like."
"Stay safe, be good, don't do anything I wouldn't"
(to a bird outside) "Hello Mr Magpie!" (salutes the magpie)
"I think I need to put some disinfectant in my face, 'cos I've got a cold."
(upon a student saying they messed up a piece of work)

"Mate, I've messed life up... what's wrong?"
"Yeah I think polar bears are kind of pointless." (Do all teachers have a thing against bears? - see Miss Leah)
(whilst on phone going through a corridor) "Yeah yeah I'm fine I'm just PASSING A GROUP OF NOISY CHILDREN."
(Making up a poem on the spot) "Upside down question marks, we are hot off the mark, we are really super cool, we are going to rule the school."
"Don't listen to me! I'm a hypocrite - I have a sports car."
Stevey-J: So apparently I'm on another meme! Why is this? Is my face just particularly meme-able or funny??

Student: Maybe its because you're one of the only teachers who's chill enough to take a joke.

Stevey-J: ...Oh.
"(Something something something) and I went to the nail salon and decided to get plum purple nail polish and this woman at the salon was like 'do you want to see a cool trick?' and got out a magnet and put it on my nails and they changed colour! And I was like, whoo lets give my Year 10s a homework all about why that happens and I was telling my dad all about it cause he was staying over for a few days... and you know what he said?? He said only half the class would be interested because the other half of the class are boys and then we had a bleepy argument and I would have probably punched him if we weren't in a pub."
"What is 'the woah'? How big is it?? Can I catch it with one hand?"
"I was thinking about you the other day."
"Guys am I number 14 on that catchphrase competition thing? I bet I am because I probably say class like clarrsss." (it actually turned out to be Miss Hartley but it could have indeed been Stevey-J)
(On a cover) Stevey J: Aww I really like these pens they're so cute, I'd take them but...

Student: I mean who would know?

Stevey J: oooh who's room is this?

Student: (certain unnamed staff member)

Stevey J: Ah I'll take it then I don't like them.

Student: Why not?

Stevey J: I dunno they don't like me.
Student: Miss, is everyone in your family just sciencey and successful?

Stevey-J: Not all of my family is successful, my great aunt was an artist.
"Oh and this acid can be used to dispose of a body just be careful if they have any gold fillings etc... that's how sloppy murderers are caught."
"When we are back at school I shall show you the video of the cheeky squirrels. They are actually very clever and remarkably gymnastic. But they will do anything for nuts."
"This week I am glad to see that Mr Reeves and the teachers are providing you with much material for the memes page (*rolls eyes*)" ~ lockdown email (not sure what she meant by the 'rolls eyes' part I bet she was thrilled to see the meme pages thriving)
"The other thing I have been doing is to make a 3D model of a chameleon... which is exceptionally fiddly. As I have ZERO patience, I have been using superglue so my finger tips are mangled now and I keep finding bits of glue on my forearms. It looks good - better on one side than the other because I messed up one of the flaps."
"When you look up at the sky, what do you see? Perhaps, if you are sat in Chemistry, your dreams fluttering away as I drone on about hydrocarbons. Perhaps birds, perhaps planes, perhaps stars, or a nice sunrise or the moon - which has been looking glorious recently. Perhaps, if you look at the right time, the little flickering lights of the ISS. We live in the North. So also clouds. Sometimes nice white fluffy ones, sometimes imposing grey ones, rainclouds, thunderclouds; sometimes - if we are lucky - ones that bring us snow. And clouds, whatever their destiny, are made of...WATER VAPOUR!"
"But why, dear, dear, dear Y10s, do you vex me, so?"