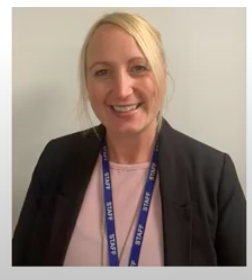 Mrs O'Hara is without doubt one of the nicest and funniest teachers to set foot into BRGS (although of course, this may just be the German teacher vibe as all of them are among the best teachers) and seems to have a story about almost every single word in the German dictionary.
Has a love-hate relationship with technology minus the love part.
Currently Head of Year 13.
"Do up that top button - you look like an extra on Waterloo Road."
Mrs O: Go on, say the word

Her kid: SCHMETTERLING!!
"If you say 'der ist' you'll still probably get a distinction… maybe a distinction with a black eye but still."
"Oh you clever little pickles."
(after her wifi cut out in a Google Meet) "God, I'm freezing more than Elsa!"
"The work is for this lesson but if there's something better on telly like Homes Under the Hammer or Rubbish in the Attic then just make sure you get it in by the end of the day."
"I wouldn't want to go to Glastonbury and portaloo for a week. I'd have to drive for a McPoo."
"I would advise you to lie."
"I could just go renegade and do 24 speaking exams with you instead of going into the writing exam, but that wouldn't be the best option."
"I'm not breeding dogs."
"I'm not going to steal someone's dog!"
"I remember just doing my speaking exam in some closet."
"Just think of gescheiden as geshearing your relationship."
"I hope I'm coming into school, I can't wait to get away from my children."