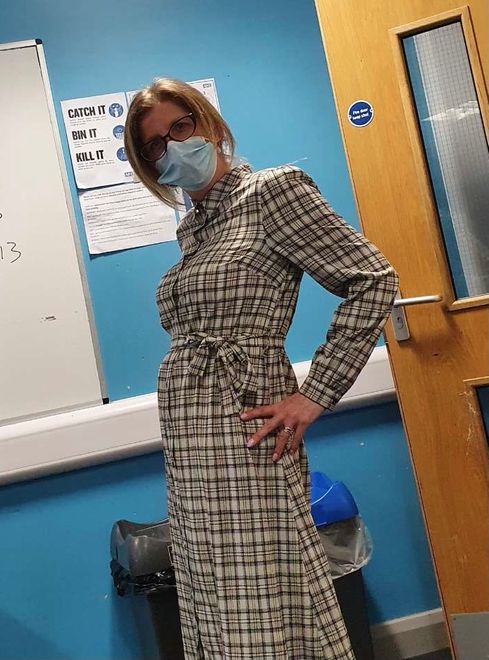 Mrs Bowdler is a language teacher and Head of Year 7. It was devastating and a great loss to many when her snail Shirley Schnecke or Coco the Caracol (Spanish for snail), was thrown into the bin. However her good friend Ms Marti bought her a new Caracol, and it's now okay. She has leather sofas in her office and is often seen walking towards or away from but never in the maths block.
If you are struggling to find Mrs B in a crowd, perhaps during assembly or a school event then you are looking for the wrong person! Dressed in bright green, orange, yellow or red she stands out a mile from the crowd and seems to be one of the only exceptions to the "wear black and look smart" rule implied by the other staff.
She is a good teacher and nice but do not talk in her lesson - she can come up with some very creative threats. Mrs B is not a fan of the nickname "Rowdy Bowdy" even though arguably 'Howdy Rowdy Bowdy' would be a much more upbeat way to start off emails to your head of year.
Mrs Bowdler is also a proud user of the "NO BUMS NO BOOBS NO BELLIES" and this phrase comes into use each week before a non-uniform day. Mrs B has expanded her horizons from just non uniform days and is now fighting the (losing) battle against jewellery, hoodies, and leggings in vain.
Is absolutely psychic - if she ever leaves BRGS it is because Scotland Yard has employed her for her detective skills.
She is a great fan of Blookets and most lessons, she would let you do Blookets for about a few minutes at the end of a lesson and sometimes tried (emphasis on tried) to do a running commentary for them, which is not physically possible.
Had you attended the Halloween Disco '16, you may remember sitting in your form room simply chatting with your mates, eating wotsits, accumulating glowsticks - simpler times not to last. Before long the Boogie Bowdler made an appearance, enthusiastically trying and failing to get people on the dance floor. Fortunately, we were given a short break only to return back to the hall and find the breakdancing Bowdler dancing with fellow staff as a stormtrooper.
https://vm.tiktok.com/ZMdyD4Xjc/ - for a visual representation
¶ The Cheese Sandwiches
"And then I realised what had happened… I hadn't given Mr Porteous a package full of chocolate cake, but instead… I'd given him my son's cheese sandwiches. I realised this at like half five and I thought 'I know how to fix this', but you know when you try to fix something and you make it worse? So anyway I sent him an email saying 'You might want to check the package I gave you, I might have put my son's cheese sandwiches in there instead…' but he didn't reply! And so I thought, 'right I'll send him another email.' and I did, saying the same thing. At this point, I was thinking the worst, as you do whenever someone doesn't reply. Anyway, he did get back to me - apparently, he'd been looking so forward to this chocolate cake that he'd saved it for after tea. Only to open it and find cheese sandwiches. He has a very good sense of humour, hold on look (shows a picture of the cheese sandwiches) there they are – in Mr Porteous' house. But it was all fine because Mrs Porteous had also made scones and they'd had those instead - see here are the scones. I feel like he's just going to laugh at me forever behind my back now."
"If you put that on the wiki it'll be a great addition."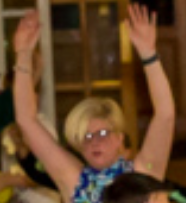 "Use that Mr Wyton quote of 'ITS DIE NOT DIE." - oh wait never mind that was me."
"Oh my god yes dab - it'll look so cool."
"Is that a rebellious jumper?"
"Are you ready for another Bowdler Bop?"
"I guess the moral of the story is that even geniuses like me can sometimes get things wrong but you can pull it off if you wear a smile… is that a moral? Yeah it'll do."
"I used to click my page on the wiki to get me up the leaderboard, but now I don't… I just get my kids to do it."
Student: That's leaderboard manipulation!

Bowdy: 'Leaderboard Manipulation'? I don't think so, it's the truth."
"I'm going grey everyone."
"Oh bum."
"Ship name? Do I have a ship? How do I get one?" "I don't remember saying that quote."
"Inside, I was furious, I just really needed him to get dressed." "Why is this quote taken out of context? It was about my 8 year old son pretending to be Gollum."
"My youngest son needed a cheese sandwich, sorry some things are more important than others."
"Hilarious." ~ upon seeing her previously new wiki photo, now amended at her request

"You don't have a watch? Well, just look at the sun and you'll know the time."
"It's like a spaceship on my wrist!"
"There was a boy I used to fancy... I used to fancy a lot of boys."
"I CAN SAY A LOT WORSE THAN HELL AND IN 4 DIFFERENT LANGUAGES."
"It made me feel like a female DanTDM."
"Wait. What year is my son in?"
"I like Mr Wilbraham. He's my co-host."
"There is definitely more to life than McDonalds."
"We cannot physically stop you from hugging each other."
"NO BUMS NO BOOBS NO BELLIES."
"Come on dude, prepositions."
"I'm channeling my inner Claudia Winkleman."

"I feel like if I met Claudia Winkleman we'd be best friends."
"I do love a good Smurf."
"Ugh flippity flop."
(Whilst on a google meets not realising her mic was on) Radio: Hello, I'm Frank Skinner-

Mrs B: HELLO FRANK!!!!
"SHIRLEY SCHNEKE" *throws caracol at child*
"IT'S DI NOT DIE!!!"
*gives somebody a pound* "Don't spend it all at once!"
"Good Morning 8S, I'm Mr Fitton now!"
"There goes Mr Bowdler pretending to be a washing machine... ahh what happens in lockdown..."
"I've never seen the meme pages (30 seconds later) YEAH I KNOW I looked like I was gonna yell at someone in my Teacher of the Week."
"I'm going to throw you out of the window."
(In a very menacing voice after someone was talking over her) "Do you like the way your face is now??!"