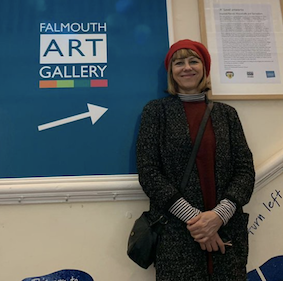 Mrs Bamford is Head of the Art Department, and consequently has the "best room" possibly in the whole of school. Although she is known by many lower school students for being a strict art teacher, she is actually decent (as long as you do the work of course). A lot of the time she isn't actually in because she is 'grading GCSE/A-Level artwork' or is sick. She likes a band called 'Let's Eat Grandma' and spent a lesson showing us their songs.
Like all the art teachers, if you cannot find her, she is probably in the art teacher hideout (the room between A01 and A02). This room is rumoured to be the Tardis as there is no way more than one person let alone 3 people can fit here alongside a coffee machine, art supplies, many many books and god knows what else.
Add a background to your work - this can be achieved through a number of methods, although preferably tea staining
You can never add enough photos
Don't bother writing in pen, just type out any info and print it out
(one of her many catchphrases) "I am strict but fair."
"Oh hello Miss Flint! We're definitely not doing a quiz about the different languages spoken in Switzerland..."
"I just stole some stuff from my son's room for this."
"I think this looks absolutely gorgeous." (scribbles around on Photoshop for a while)
"And one... two... three... it's so boom!"
"Personally, I think that adding black to a painting or drawing is like putting a black hole there that just sucks all the colour and joy and life out of it, and overpowers it and completely throws it off balance. But then, that might just be me."
"Can you pass me a piece of scissors?"
"You can choose any medium."
"Ahh how does that song go? Misss Jacksooon I'm sorrrry. Hold on, I'll show it to you."
"You'll all love me by the end of this year."
"You can buy these art equipment nowhere else for as cheap as you can here."

Also Mrs Bamford "Lynn! Bump up the prices a bit, lets double the price of the brushes."
Mrs B: Has anyone seen my glasses? I might have left them on a table somewhere - they're bright red.

Student on the other side of the classroom: Oh miss, I think they're over here.

Mrs B: Ah throw them to me.

Student: Are you sure?

Mrs B: Yeah yeah, they'll be fine. I only got them for like a quid you can chuck them.

Student: Ok then... (lobs the glasses and they hit the wall, narrowly missing Mrs Bamford)

Mrs B: Ah they're still fine.
"Ciao ciao my babies."
"Zoom zoom zoooom!" (runs out of classroom backwards and doesn't come back for half an hour)
"You can't use that!" (throws pencil out of the window)
"Stand around the table in a circle, my sweet little vultures."