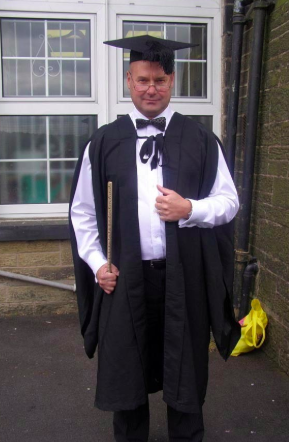 Mr Whyte is Head of the RS department and is well known for his laid back yet effective teaching method. He uses the phrase "my friends" a lot whilst talking to the whole class and when pointing at the board he often uses his middle finger.
Almost every time one looks through the window of Room 26 during lesson time it is almost guaranteed that the class in there will be having cake although after further research it was concluded that most classes hadn't experienced this and so the cake mystery remains unsolved.
Whilst the class is getting on with work or watching a film Mr Whyte often just returns to his office next door for a bit. Notably, depending on the class, his computer takes half the lesson loading the register.
RS lessons frequently involve watching films from the RS department's legendary film collection, even at GCSE. Some epic films include: The Truman Show, Toy Story 3, Gattaca, Hacksaw Ridge and The Matrix
He also become somewhat famous after starring in the first series of 'Class from Hell' videos along with his co-star Mr Edwards. In this series his character was known for chewing gum and eating food all throughout class.
"Ooh I feel like that guy on Live at the Apollo who's in between each act!"
"You have two minutes left. You have two minutes left. Why am I saying everything twice? Why am I saying everything twice?"
"Aughhh sir... you're well tight!."
"Well that was certainly one of the more... erm interesting presentations I've seen."
"My friends..."