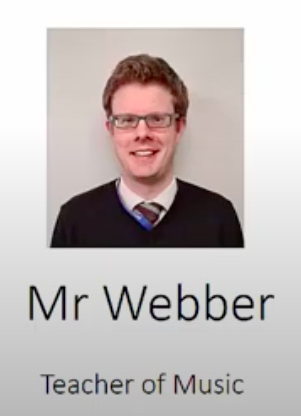 Mr Webber is a music teacher who, as far as most can tell, can play any instrument he picks up. Most people, if not all will be taught by him at some point from year 7-9 as there are only two music teachers along with Mr Davenport. He has a peculiar, sarcastic sense of humour and at times can be really fun. Christmas brings out the best in him, especially if he dresses up with a Santa beard and a Christmas jumper at the legendary Christmas concerts.
It's true that he has a keen interest in philosophy and ethics, and as a result is quite a deep, critical thinker. He's also a fan of jazz and manages to turn everything into a swag jazz chord or improvisation
"Don't get too excited as I show you this scantily clad dancer."
"I didn't propose to the government."
Mr Mercer comes in

Mr Mercer: "You want anything from the canteen, sir?"

Mr Webber: "Oh, I'll just have a packet of nuts or something."

Mr Mercer: "Okidoki."

Mr Mercer goes

Mr Webber: "Actually no, I can have whatever I want." (Opens door and screams down corridor) "CAN YOU MAKE IT A BACON BUTTY AND A CHOCOLATE MILKSHAKE? THANK YOU"
"Alright (student) let me just have a look at your G-string."
"Pesky branches."
"So have a play on this game to revise your instruments; the game just got a whole lot better! There's dancing peacocks!"
"Mr Davenport's voice is sexy, isn't it?"
Mr Webber: Now go away so I can have another week of happiness.

Student: Sir... you only see us again in 3 weeks.

Mr Webber: Yess!
"You very peculiar child."
(Whilst taking the register to a new class of Year 7s) "Ohh you're that kid I almost ran over yesterday."
"And that guy was crazy and French."
Gets excited over dictating 'All I want for Christmas is you' in June "You can put that one on the wiki!"
"Now we all know about the 7 letters in the alphabet."
Mr Webber: Can you take the sunglasses off please?

Student (wearing sunglasses): Sorry sir, I'm just too awesome.

Mr Webber: Ok then, get someone else to do it.
"I like to see you suffer" (after torturing students with harmonic analysis)
"It's all fun and games"
"When I don't have kids anymore I will learn the flute"

*Students look at each other in horror*