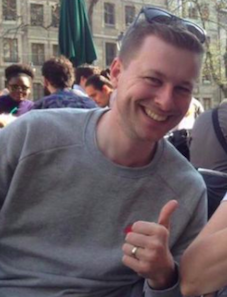 Mr Stringer is a physics teacher and teaches a lot in Room 63. He uses a lot of idioms that no one has ever heard of and it is rumoured he just makes them up. Mr Stringer was a well educated young soul, reading Stephen Hawking's works in as early as Year 10. He knows a (perhaps concerning) number of radio station wavelengths. Some say he looks uncannily like Mr Peat, some say they are the same person - I'm not saying anything but we are yet see them together in the same Google Meet… Stringer is more than happy about the comparison but Mr Peat denies the resemblance (which is a total cover).
Has a lot to say about Disney princesses and flowers (only good things).
He is also 10W's form tutor.
¶ Joseph and the Amazing Navy Dreamcoat
Mr Stringer likes navy blue garments - and hopes to one day perhaps expand his horizons and extend his wardrobe into grey once he's a little more daring, but for now however remains chasing after the navy jackets of his dreams. It is important to note this navy attire remains constant even on non uniform days. Owns 5 pairs of shoes.
"Mr Stringer pretends he's not interested in the staffroom gossip, but he totally is. He'll sit there pretending he's not listening then all of a sudden just join in with something. He doesn't really know much gossip himself but he'll still join in." ~ Mrs W
The man himself would like to say in his defence that 'it's hard not to join in with gossip that's like 2 feet away.'
The plot thickens - upon telling his fellow gossiper this excuse she would like to say "Shut up! That is such a lie! We'll be sat there in like literal silence and Mr Stringer will just start telling us all this gossip."
"Mr Stringer was telling us how he was a total gossip girl in high school - if there was gossip, he knew it."
"Oh yeah he's one of the girls now… like his chair was fully pulled up in the staffroom gossip today…"
"Ah… Newton the poet… don't the laws just roll off the tongue?"
"You might still have a very nice cake but need some icing."
"I'm just merely a lowly subject teacher."
"It's not a sandwich unless it can be held with one hand whilst you're playing cards. You know those big sandwiches that kind of fall apart and you need two hands to eat them? No no no no, they're not sandwiches."
"You have too much energy… When my son has too much energy I just tell him to run laps around the table - maybe some of you need to do that… Just go run around your living room."
"I thought I was a monkey for a long time but it turned out I was a hare."
"To prove my music taste is just as good as Mr Heald's I'll put on some absolute bangers."
"I'm the DJ."
Mr S: *finishes explaining the deal with exams* Any questions?

Student: How are you, sir?

Student: What's your favourite colour?

Student: How many pairs of shoes do you own?

Mr S: …I meant physics related questions. (goes on to answer questions nonetheless)
"You like smelling petrol?? Like do you actively seek it out? Cause if you do you can always talk to someone… perhaps Mr Reeves… Mrs Bowdler…"
"You know that bat enclosure in Chester Zoo? I've not been in for a couple of years now… they kinda freak me out."
"I remember watching 'Call the Midwife'… One of my favourite programmes, 'Call the Midwife'…"
"I've got two kidneys, but one of them's not quite kidney-shaped - it's a bit of a wreck."
"I struggle to get to sleep... I envy people who can get up early - Mr Heald gets up at like 5 o clock and is as fresh as a daisy."
"I could do a Mr Heald and just vwoosh, although at my age it might never grow back. I think I'll wait till April 12th and get it cut by a respectable institution."
"Sorry I'm late I was looking at my oven clock."
"You need to get the ol' calculus book out."
(In a voice not dissimilar to Wallace) "Hohoooh look at that I can choose colours."
"Everyone's a bit stressed cause life is stressful."
"Have a break while I find this - open a window, listen the birds singing, its also spring. Stretch your legs, like in primary school when you had to stretch mid lesson to 'help your brain learn'… maybe you dodged that bullet… ah that's it, do a Wake Up Shake Up."
"When computers first came in everyone was like 'ooh computers'."
"Being a doctor is like trying to play for Madrid."
"We don't have much common sense as physicists but the bar for common sense is pretty low."
"He (Reeves) just looks so young though, doesn't he?"
"Is that a llama"
"You might have emailed Mr Stronger instead."
"If your heads gonna explode just email me I'll make sure it doesn't... explode.."
"Did I not reply?? How rude. How incredibly rude of me. Unbelievable. That is the height of rudeness."
"Mr Porteous should have hand delivered them (mocks) in his little minibus, shouldn't he?"
"A cheese string? Haven't had one of them for a long time… They promise a lot but there's not much there. I just end up scoffing them down straight in there, it wasn't designed for that. I just can't trust myself and bite the top off."
"If anyone's interested my tea's a bit weak."
"This is a bit of a banana skin."
"It almost feels like spring, doesn't it? It's finally sunny, the daffodils are poking through - not seen any flowers yet though, the birds are singing…"
"These drawings are making me feel emotions… I don't know what to feel… You know how some people are afraid of those weird clowns?"
"I'll debate that in my head with myself."
"Don't put all your eggs in one basket… you know what I mean?"
"If you ever listen to… Rossendale Radio… maybe not…"
"Ionising radiation is special because it's ionising."
"There isn't some sort of teacher's secret society which rules the world… unfortunately that's not how the world works. Well, maybe I'm not in it and Mr Wilkinson or Mr Porteous are in it."
"Ah we're still waiting for a few people, go get a brew."
"Sometimes I just eat fresh pasta from the bag… yeah without any sauce. It's good."
"A few people were talking about fusion like it just happens in your living room."
"Yeah I've seen the Truman Show like 10 times."
"So what happened before the Big Bang? (whispers) We don't know. (still whispering) Oh I don't know why I was whispering."
"Augh what an absolute clown I am."
"Oh sorry, I lost the ability to read."
"Some of the people in the other class were surprised I still visited my nan, like she still sometimes gives me pocket money. Of course I'll say 'oh no, you don't need to' but deep down of course I want a couple of extra quid, who doesn't, so I'll only say it like once."
"All the big bois are here in the middle." (stars in the Milky Way)
"When I was watching Peppa Pig the other day…"
"Have you ever watched that amazing TV programme called the news?"
"If you're like most normal people you don't wanna end up in the water so you'll be looking for someone to push off the raft, or maybe even two people to push off."
"We're not creative enough to actually come up with a creative name."
"Don't punch somebody in the face."
"You're basically levitating on your seat."
"You know when you're a kid, well maybe still now because it's fun, how you put the same magnets together."
"You are made up of pretty much nothing."