Mr Reeves is a deputy head, head of lower years, member of the senior leadership team, head of pastoral care, and numerous other titles that hold little meaning. Reeves is also a maths teacher, but only teaches A-Level students. He can also do a number of flawless animal impressions, including a horse (along with 'clip clop clip clop'), a crocodile, and a dog (although this is down to debate, it can also be argued he was acting as a rabid fox). It was also decided that he would be more likely to go around in a zorb ball than Mr Porteous.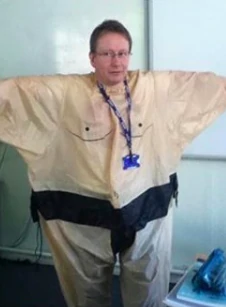 Reevsie is often found patrolling the classrooms at lunchtime, and does not appreciate people throwing things around. If you are caught doing such an act he will just point at you then symbol with his hands to go over to him. Unfortunately for him, the lack of speaking means that one can often pretend they misunderstood him, especially if he is signalling through a window, or just wave back at him then continue along on your merry way.
It is rumoured that Mr Reeves could do trigonometry and quadratic graphs from the age of one, and indeed before he could walk. He claims he was a 'party animal' during his sixth form days though this is yet to be confirmed.
He once seemed to think he was Spiderman and then consequently broke his wrist. (A passage from the old BRGSWiki states 'In what was possibly his first ever assembly at BRGS he opened with the words "I had a strange dream last night. I was Spiderman. He then explained what this was all about, and said, "I always knew I was Spiderman", and "that is my gift and that is my curse, who am I? I'm Spiderman!")
At some point during his mysterious past he has lived in New Zealand.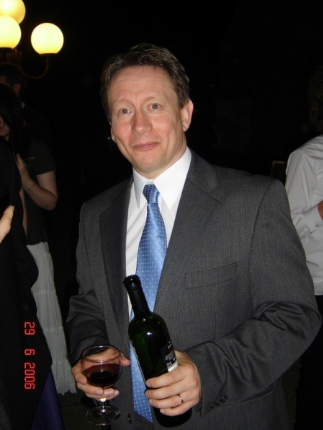 Mr Reeves makes many assemblies. His devotion for them was shown during the coronavirus lockdown when he recorded an assembly each week and then sent it to all the BRGS pupils. In the past, many of his assemblies have revolved around acronyms that are used for about a week then discarded. Such acronyms include:
PINK (pause influencers naked know)
RROAST (also unaffectionately referred to as the BRGS Values, these are resilience, respect, opportunity, ambition, support, trust)
PAW (passion, ability, willingness)
DEAR (drop everything and read)
Not an acronym, but Growth Mindset. The idea was to add 'yet' to a sentence ie. "I can't do this... yet" however many people took the opportunity and used things like "I haven't been to prison... yet" or "I haven't done drugs... yet."
WBWA (wipe before, wipe after)
Mr Reeves is also the proud creator of the Behaviour For Learning Policy which manages to take up a number of pages in our planners and has drastic changes and additions every year.
Reevsie has shown that he has an affinity for Paw Patrol. He once did a whole assembly on Paw Patrol, and later that year during the school Quiz Night he based a whole round on Paw Patrol and didn't understand why you got 0/10 unless you had a little kid hanging around to spare.
When walking up to school, Mr Reeves seems to have a different greeting for every single group of students every single day. It is unknown how he comes up with so many. Some examples include:
"GREETINGS! GOOD MORROW!!"
(On a rainy day, Mr Reeves looking particularly unwaterproof) "Morning. Notice how I didn't say 'good'?"
"Good morning, chapatitas!"
"Is that ME with a GLASS OF WINE??"
(To a bunch of 'face to face lesson' students kicking around a traffic cone) "Oi stop that! Stop kicking that cone around! That traffic cone has feelings. Stop being cone-ist."
"Alright, lets ermm... Lift your left leg! Lift your right leg! Umm... Do a ballerina! And now on the other leg. What else can we do? Ah yes, erm, everybody do some skiing, and now a ski jump."

"What else can I do? Oh I know!" [begins acting like a rabid fox*]

(*this in fact turned out to be a game of charades where he was acting out Hound of the Baskervilles, but he hadn't told the class beforehand and needless to say we were just as confused as Mr Heald when Mr Reeves was just stood at the front of the classroom and began acting like a dog)
"Everybody do the crocodile dance!" (the class of year 10s this was directed towards looked very bewildered and bemused)
"My life, my situation is just not the same as anybody else's. Nobody knows what I'm going through. No one's struggling like I am. No one's in the same situation as me."
"I was in school on my own today... it was all so... echoey."
"I didn't just wake up this morning and just think 'LETS JUST TAKE SOME COCAINE.'"
(Queen comes on and people sing along) 'Caught in a landslide'

Reeves: NO NO

'Can't escape from reality'

Reeves: NO YOU CAN ESCAPE

Reeves: (leaves for a couple of seconds, then comes back just in time) I'M JUST A POOR BOY
"I'll hang you from the Clark Building from your legs."
"Forks! Anybody need forks? Anyyybodyyy need forks??"
(Walking into summer in school lockdown sessions with camera) "AND HERE WE SEE SOME WILD YEAR 10s WHO MIGRATE BETWEEN WINTER AND SUMMER."
Mr R: Can someone tell me what the last sentence was of that video we watched a week ago? Year 7 & 8 did awfully at this...

Student: Our values define us

Mr R: YOU STAR!!!! YOU ABSOLUTE STAR!!!
(The introduction to a code breaking activity on enrichment week) "What are we going to be doing this afternoon? Well, the ceiling is going to fall down, we'll jump out of windows, there'll be people with guns we have to fight, a giant monster will come out of the floor, there'll be a bomb with a ticking timer and we need to crack the code before it goes off. Possibly."
"You gotta make those ... snaps fingers ... snap decisions!"
"I was a youth worker not a drug dealer."