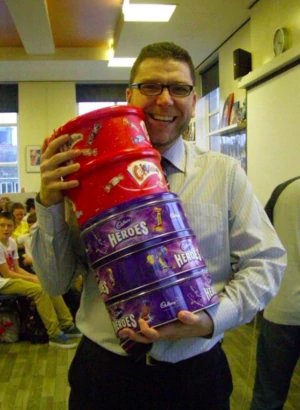 Mr Mercer is a music teacher. He can get angry but he's usually very nice. Once, Mrs Bowdler grabbed the microphone at the big sing to start singing and he practically hurdled over tables to take it off her. He is more invested in The Big Sing than any of the other music teachers. He plays practically every instrument. Him and Timothy (Mr Webber) are good friends. He practically invented the ukelele, he plays it so well you can almost tell what tune it is.
He has the most unreal vocal range, he can practically go from bass to soprano! Once in choir a couple of years ago he even managed to sing the soprano part from 'The Ballad of Sweeney Todd' which is really impressive. In general whenever he demonstrates the soprano parts it can be really funny- especially when he demonstrates the descant.
Mercer: Ok guys. Anyone know the song Good Morning, Baltimore?

Student: Good mor-ning, Baltimooooooreee!!!

Mercer: It's like that. But not. Do you even know the song?

Student: I listened to it yesterday.

Mercer: Well, you've clearly forgotten it since then.
(on the phone) "Are you using my home?"
"Music without dissonance is bland"
"Damn I can't find any legal videos of Hamilton."
"Does anyone know any musicals"

Student: "Shrek the musical!"
"Picture yourself in a car in a lake, with grapefruit trees and marmite skies, follow the swan with telescope eyes."
"That sounds good... that doesn't sound good"