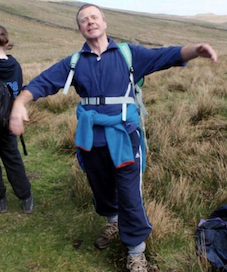 Mr Chambers is a chemistry teacher and also Head of Year 11. He is also pretty good at high jump and beat Mr Pigott. One lesson in Room 33, he didn't have a beaker on hand so he made do with the next best thing - Mrs Grehan's Putin mug. The purpose of this beaker was to store hydrochloric acid. To dispose of it he poured it out of the window.
His initials are PVC, implying his full name is actually in fact Poly Vinyl Chambers.
Had a bit of a surprise when he went into Room 7 to chat to Mrs Stevenson-Jones only to turn around and find himself face to face with the Rick Astley cut-out. He was so shocked he fell backwards and tripped over a bin. Whilst all of this was unfolding we can only wonder what the poor student being interviewed on Google Meet by Mrs Stevenson-Jones thought BRGS was going be like.
Mr Chamber's office is Room 2 (not surprisingly between Room 1 and Room 3). Only those lucky enough to set foot inside have seen what store cupboards and files lie in there. For this reason his office is referred to as the 'The Chambers of Secrets'.
"I quite like tuna actually."
(overhearing students talking about how to cook prawns)

"It's like Masterchef over in that corner!"
(Whilst trying and failing to take a lid off a blue sharpie) "Oh this is quite difficult, I have to put energy in."
(At the end of almost every sentence) "Quite simply."
"Is that old BRGS Wiki still a thing?" (thus inspiring us)
(on an email) "Take care y'all."