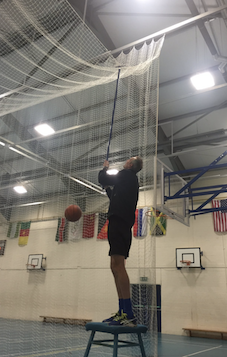 Mr Baird is the Head of the PE Department and is very very tall. He is considered the more relaxed out of the two male PE teachers. On Year 9 Camp Mr Baird and Mr Wilkinson took a bunch of selfies on Miss Gore-Ward's phone whilst she was on an activity and she keeps complaining that it keeps coming up as a memory on her phone.
Mr Baird is very tall. In fact he is so tall that he is 6 foot 7 (according to Mrs Kolbuck). You can always spot him on school photographs because he towers above the other staff members and probably hides the faces of anyone in the rows behind him.
"See, I just left this blue-tac in the cold outside. It represents your muscles if you don't warm up." (pulls and snaps blue-tac)
(Mr B running onto the astroturf)

His PE students: (as a chanting song) MR B, MR B, WHERE ARE YOUR SHIN-PADS?

Mr B: (nervous laughter) ermm... heh...