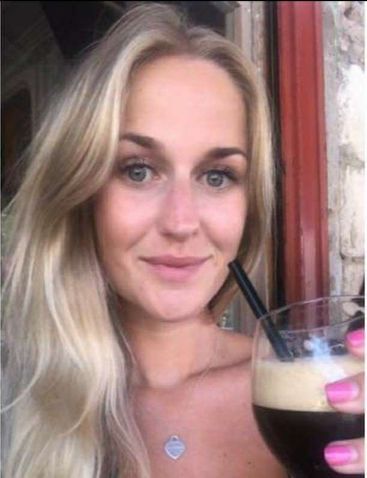 Miss Whitaker is a maths teacher from Newcastle, she enjoys soup, gravy, Greggs and velociraptors, and can do a flawless impression of one. She likes giving a rainforest's worth of Corbett Maths/Dr Frost booklets as homework. She dislikes spelling, missing out questions in booklets, Tesco Haslingden, and people who have never watched Frozen (her favourite movie). Her favourite Nandos side is mashed potatoes.
She is often seen in and around the maths block and always wears high heels, so you can hear her coming down the corridor from miles away, giving everyone time to put away their phones and sit down (not that many people do). Also, she appears to have superhuman skills that allow her to instantly clear a pathway between students, especially down the stairs in the Maths block, and even at the busiest times in the school day, so stay right behind her if you're in a rush. She often says "yous" instead of "you" and always asks if anyone needs help every 30 seconds (no one ever does).
"I don't like the idea of gravity and that. Its just not my vibe."
"D2… Dolphin 2… actually no I hate dolphins." "Cause like they just look mean like in that one episode of Simpsons where they take over the town - I haven't liked them ever since. Oh my god though I love dinosaurs and like I know they take over the park in Jurassic Park but they're still cool."
"Haslingden Tesco is disgusting. I had to get my Christmas lights from there and it was just really… not a good situation to be in. It's rank, it's absolutely disgusting. Asda's the dream, it's got everything. Aldi just has random aisles of things you don't really need, just like in the middle. You just can't do normal shopping there."
"I had a starter printed off for you but I cut it weird and it stressed me out so I threw them away."
"Be there or be square."
"I am very intelligent and can teach maths. I also know a lot about German history." "It needs to be a disclaimer not a quote."
"The chemical formula for water? It's O₂ right?"
"I literally don't remember any of the elements on the periodic table apart from maybe CO₂."
"Last night I was just thinking about the geography and the rocks we did in school… yeah, like that one, what's it called? Ah wait… limescale…"
"Oh noo… (looks extremely distressed) …I've been a dafty."
"Macbeth? Is that the one where his wife is a psycho?"

"Is there a scene with a feast or sommit? That's all I remember from it."
"Oh, I really need to stop talking about food so much! I should start having like, really intellectual conversations with yous, like about Einstein or somethin' like that."
(about the wiki) "It's very professional"
"Oh my god I'm telling you these are the crisps of 2020 let me show you." (looks up Hula Hoop Flavarings on the board) "See they're just perfect though, cos like they have a different texture to Hula Hoops like they're not as hard, and they're bigger too so you can actually fit them on your fingers, and the spicy flavour is just amazin, like they're not too spicy and you don't need a spicy dip to actually make them spicy."
"Like I wouldn't say that Kit Kats are a chocolate they're more of a biscuit really."
"See, I'm not a tangy cheese type of person but then again I just lovvvve Wotsits."
"Now don't be a dafty and make this mistake."
"Alright guys, phones out. Actually no. Aih don't want to be a meme."
(On snow days) "Ooh if you guys want it to be a snow day you need to put spoons under your pillow when you go to bed tonight."

"You'll need to do a little snow dance if you want it to be a snow day!"

"I think my little sister might be doing witchcraft."
"This Year 8 asked me if adults could even get braces and I was like oh my god just go away."
"Oh I don't know what's on your book, pass it here." (smells it) "Ooohh I think it's soup."

Some kid: Wait miss, what's on my book?

"Ahh that'll be nail polish or gravy."
"Why didn't yous send me an email? Oh yous did? Oh well I didn't check them."
(Walks into our cover lesson) "Sorry to be a Scrooge but could you turn the music down a little bit?"

Miss Hughes: Sure

(As soon as Miss Whitaker leaves Miss Hughes just turns up the music instead)
"Maths boøöÓÒœõoks out."
"Oh yous know in Jurassic Park where the velociraptors do this?" **proceeds to walk around the room squealing**
"Why does no one need help? Yous lot are well boring."
"Alright guys here's the textbook." (Every 30 seconds from then) "Do any of yous need help with anything?" (No one ever puts their hand up)
"OH MY GOD. Yous have never watched FROZEN??? That's my FAVOURITE movie."
(On spelling) "How do you spell 'falafel'?"

"Is 'Asian' spelt like 'Asain'?"

"How do you spell 'reindeer'?"