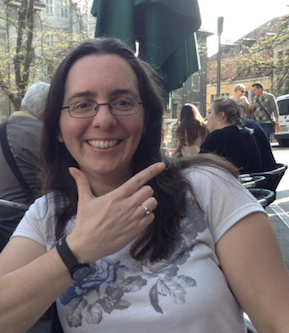 Miss Morris (also goes by Gangster Morris) is a physics teacher and without doubt one of the nicest teachers at BRGS. She joined in September 2012, has a number of catchphrases such as 'ladles and jellyspoons', and is also the founder of Physics Cat. Miss Morris also loves to start fights and cannot catch for their life. Thinks physics is better than maths and wants Mrs Sawle to know it.
Her memes are class and overshadow the meme pages by miles, her memes often revolve around physics, Rick Astley, tea and cats. In fact, her meme game is so fire that Mrs Taylor thought she ran one of the meme pages (well maybe she does, how would we know...?). Before she joined BRGS she decided it would be a good idea to read up about her soon-to-be colleagues on the old BRGS Wiki.
Do not say "heat rises" during any of her lessons unless you wish to be the first person to have 'death by physics teacher' written on their grave! This will be immediately ensued by a half hour rant about buckets of light or something. (The last person to say this suffered the consequences of a bucket of cold water - with photographic evidence)
Every year for Christmas Miss Morris wears a festive string of fairy lights that seems to grow in length each year. Also for Christmas, in a compromise with her mother, Miss M will eat one brussel sprout - enough to make her mum happy, not enough to feel begrudging and resentful for the rest of the day.
Miss Morris makes her own videos to do with physics, as science students currently can't do any practicals as a result of 'rona'. These are called 'Physics with Morris', or for her Year 8s which she has to teach biology too, 'Physics with Morris does biology'.
Her classes believe she should have her own Youtube channel and may give up teaching to become the next Bill Nye or Katrina Bryan. Some members of her Y8 class even suggested a joint venture with one of the memes pages. (→We would be happy to oblige, our GCSEs are a lost cause anyway - [what GCSEs?])
She has little hope in her current Year 9 group (understandably).
She has asked for us to mention how good her biology is and how she could successfully label the muscle on the small intestine (we are indeed very proud).
She is looking for a theme tune if anyone feels so compelled…
Some of the guest appearances include:
"One of my frying pans."
"A big spoon for stirring stews."
"A pan for if I'm frying eggs."
"METAL HANDLE."
"Spatula."
In her words the frying pan works well as a frying pan.
Look out for Little Chats with Morris, the new daytime talk show…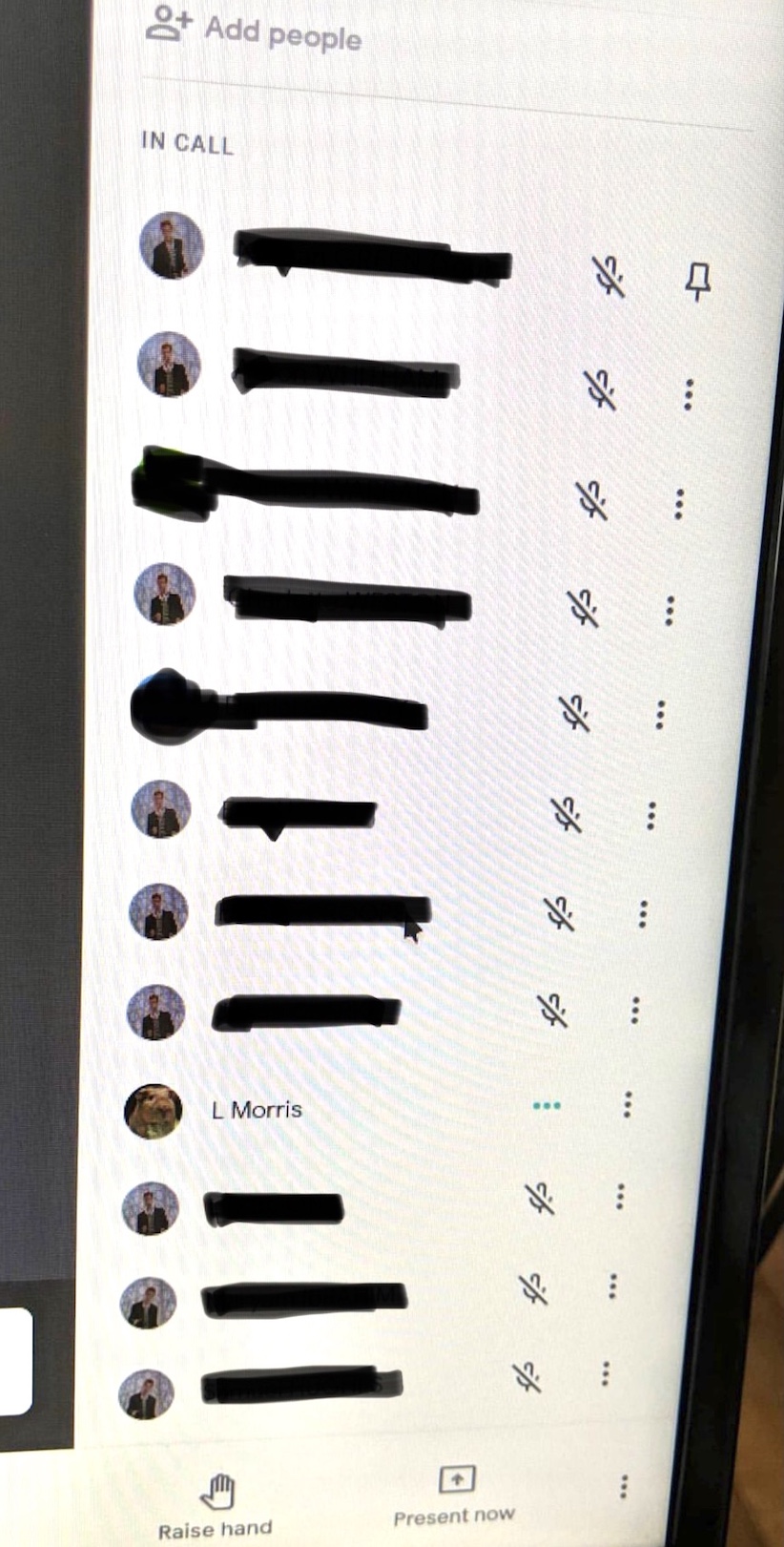 Miss Morris has taught her classes well - shaping them from the moment she began showing us Rick Astley pie charts. In fact, they have been taught so well there has been an increase in rick-rolls throughout the school - yet the most impactful no doubt being from her very own 11K1. First joining her physics Google Meet having all changed their profile picture to the same Rick Astley gif.
Then, on the chat suggesting she should check her wiki page - which had been masterfully changed to a redirect to the very video itself.
As if this wasn't enough, on the return to school there was more - dotted around the various classrooms of the Clark Building are now the (slightly demonic) printed out faces of Rick Astley which kindly watch over Year 11 lessons.
In retaliation, Miss M has hinted at intending to just call all members of the class 'Rick' from now on. The Google Classroom header has also been topically changed.
Update: The Ricks are duplicating. No one is safe. A certain geography teacher has weighed in stating "I lived through the first Rick Astley era... We didn't need a second one. (and upon seeing a Rick Astley face hanging from the ceiling tile beyond the height of easily being placed there) I blame exam stress."
Update 2: With Year 11 drawing to a close, the final (until the next one) ultimate Rick Roll has taken place, and all we need now is for the man himself to acknowledge the masterful shenanigans.
Rick is back in the form of a cut-out - much to Mr Chambers' surprise, who supposedly upon seeing it was so surprised he fell backwards and tripped over a bin. Rick is currently rolled up in the staffroom as a physical Rick Roll (credits to Miss M) to protect him from damage following the unintentional amputation of his foot. Rick, was first put on the wall of Room 7, where he was first greeted instead by a poor cover teacher who was completely unaware of the above. After about 5 minutes of cautious side-eyeing him she asked a student on the front row if Rick was supposed to be in the classroom, to which he replied "Well, it's Miss Morris - so probably." The defeated cover teacher was left having to face the unblinking stare of Rick for the rest of the lesson.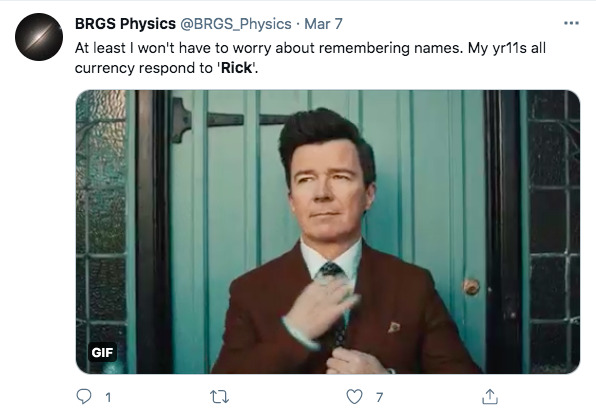 "Which one of you are chirpy morning people? Yeah? I hate you guys."
"I love making teenagers cringe. I could- no I won't dab...."
"Where I go, he follows. He's coming to every lesson." (Rick)
Student: Miss, how much did that cut-out cost?

Miss M: Nothing - some of my old Year 12s gave it to me.

Student: I thought he was supposed to be ginger.

Miss M: It's just bad quality.
"Not a fan of penguins. Birds in general are okay."
"Reduce reuse recycle."
"Why should I care about penguins? Not a big fan, kind of smelly."
"I know who the mole in year 8 is and who the mole in year 11 is… I just need to know who it is in this class."
"Just look on the wiki. That's where all the reliable information on teachers is."
"Apparently I'm a classy bird."
"I'm too cool to dab." (later) "Right now I'm getting annoyed Year 9." (proceeds to dab twice)
"If you ever see me with two people and say hi to me - those people are my parents and will try to embarrass me."
"Even though I'm from Essex I'm still a classy bird."
"There's a mole in the classroom."
"Can I work out string theory for you? No - it's the end of the lesson and I have another class to teach."
"I even showed you Physics Mug in the staffroom."
"It's not hard, it's interesting."
"There's the electromagnetic-spectrum song which is like the coolest song ever."
"If I were to take my fridge and I don't know, take it to Antarctica, I'd want to go and stand in it."
"What do you think about the colour of my fridge?" "Yeah I have lots of physics magnets on it."
"Apparently you can't spill tea on students."
"All of these quotes are gonna end up on the wiki."
"Back to Physics with Morris in her Kitchen, I have a black fridge-freezer - looks well classy with the rest of my kitchen."
"Going to school means I can't eat cereal during the lesson."
"Gotta get up at 6 o'clock? Oh dear sucks to be you."
"I have a semi tame rabbit and two badgers."
"I can beat you up if it'll make you feel better."
"Mrs P and I used to sit at a table with some nutella eating it with a spoon, usually after parents evening."
"I AM a meme of myself."
(about Mr Heald's new lockdown 3 trim) "Imagine egg in a bow tie"
"No, I wanted to throw him into a black hole… any good physicist wants to be thrown into a black hole."
"Why do people keep emailing me?? Stop emailing me."
"I'm sure I've given whoever it is plenty of quotes for the wiki."
(To a much younger 16S whilst on cover) "Are you the form that we got shown a video of dancing and singing in the staffroom a few weeks ago?" (the horrified 16S denied everything) "Yeahhh, it was you guys, Miss Butterworth showed it us for teacher training day."
"My name is not Lorris Morris."
"If it (physics mug) did have vodka in there then it wouldn't be glowing red."
"I'm quite violent actually. I like whacking peoples' shins in hockey."
"The staffroom is a tip… it's not that interesting." (what are they hiding?)
"One of them (9Y1) must just be sat there writing down my quotes to add to the wiki all lesson instead of doing the work!" (I can assure you this isn't true :) )
"Physics is all about making you sound intelligent."
"Setting stuff on fire is good fun - it's not just what chemists do."
"This is what happened to the last student who said 'heat rises'." (shows a series of images of some poor kid having a bucket of water poured over their head ensued by a very happy looking Miss Morris)
"There's some lovely Physics with Wilko videos." (the spin off series)
"The excitement is beyond high for returning to Morris in her Kitchen."
"Don't want to listen to my dulcet tones all lesson."
"The wiki never lies."
"I just want to find out who the mole is."
" 'I like year 9, I think you're lovely.' NOT ANY MORE!!! :-) "
"Ok… so I've got some very poorly designed kitchen items."
"Anyone who wants to wear an underwire bra don't wear it in a storm you'll get hit by lightning and die."
"So I did Physics with Morris for year 8, I am now going to do Physics with Morris for you in my kitchen."
"We're gonna have a little chat."
"Who do we need to give a good kick up the backside?"
"I could be McGonagall."
"My hand keeps disappearing."
"I like year 9, I think you're lovely."
"I look quite funny bald."
"I just go around in my little physics car running over old ladies. Vroom vroom."
Miss Morris - "I'll be honest, I'm racist, sexist and homophobic, but at least I hate you all equally."

Student - Blinks "Miss, that means you aren't racist, sexist or homophobic."
"I don't think I have you next year. Wait, maybe I do? I don't know, I remember feeling disappointed."
"You two are no longer my friends."
(Year 9 Camp) "Seriously guys. Stop making the grass noises."
"You don't want me to be your teacher next year, believe me."
(Anglesey at 1am or somewhere abouts) "Ok guys, stop talking. It's really bedtime now. So close your eyes, have good thoughts, have nice dreams and all that stuff." (leaves and slams door)
(After raft-building at Anglesey) Miss Morris: Oi are you taking off your helmets already? Who said you could do that?

Student: Sorry miss.

Miss Morris: What if a tree falls down on your head?

Student: What are the chances of that?

Miss Morris: The same as a physics teacher hitting you on the head. (somehow we didn't see what was coming next)
"DON'T BREAK PHYSICS OR PHYSICS WILL BREAK YOU."
"Is there any way to count all the hairs on a person's head?"
"Ladles and jellyspoons."
"I had a hypothesis that if teachers carried tasers then students would behave very differently. I asked Mr Porteous what he thought, but the Governors wouldn't let us. However, a student of mine also said that if students carried tasers then the teachers would he a lot nicer."
Miss Morris: We want to test reaction time and how they change--

Student: DRUGS!

Miss Morris: Of course, I wanted to, but Mr Porteous wouldn't allow me - he said it was unethical and it wasn't ethical to keep you up all night.
"No, Evie, the term 'lubricant' isn't always used in the way you're thinking…"
"You haven't been reading the wiki or looking at the meme pages? What are you doing with your life?"