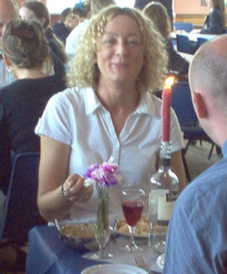 Miss Caton is a psychology teacher and therefore only teaches Sixth Formers. Her office is the first on the right of the locker corridor.
She is also a member of SLT meaning she occasionally does assemblies (mostly about dogs in Greece or global warming), and at lunch and breaks if often seen patrolling the corridors with walkie-talkie in hand, ready to combat the crimes of truancy and walking down the stairs on the wrong side.
Miss Caton also sometimes does lower school sessions about the 'Memory Cycle' which involves half the year sitting in a C012 whilst Miss Caton talks about Mr Porteous on a skateboard.
During the Remembrance Assembly of 2019, she adjusted the microphone for everyone who was exactly the same height and didn't need changing but as soon as there was someone who was significantly too short or too tall for the mic she left it and let them adjust it themselves.
"You might have drawn some random looking female with a crown on." (the queen)
(on walkie-talkie) "Cornflake spillage outside Room 88, I repeat, cornflake spillage outside Room 88."
"Imagine you're walking up the school hill and you see a horse jumping over the thing that stops cars getting through. As you head to school and go up the stairs Mr Reeves is playing with a football. You take out your phone to take a photo. As you head inside the school, Mrs Bowdler is on a swing on the balcony. As you watch, confused, Mr Porteous hits you whilst on his skateboard. Mrs Baines - dressed as a clown - puts a raspberry on your knee instead of a plaster."
"We're going to split you up from all the people you know and put you in groups with other forms so you can understand how refugees might feel." (Enrichment Week 2018)